News & Events
Newest 'State of Nursing in Massachusetts' Survey Reveals Unsafe Conditions and RN Burnout as True Causes of Statewide Staffing Crisis as Hospitals Overspend on Temporary Nurses and Patient Care Quality Drops
03.29.2023
85% of nurses say hospital care quality has deteriorated over the past two years; 53% say hospitals that rely on travel nurses have worse care
71% of nurses say their biggest obstacle to delivering quality care is understaffing and/or having too many patients at one time
88% of nurses (and 98% of new nurses) support legislation limiting the number of patients assigned to a nurse at one time
CANTON, Mass. – The hospital industry has long engaged in a harmful cycle of hallowing out the state's permanent workforce of bedside nurses by undermining their ability to provide quality care through understaffing and assigning unsafe numbers of patients, fueling the flight of nurses away from the profession, and then relying on expensive travel nurses to fill the artificial void, resulting in today's staffing and patient care crisis, according to the newly released 2023 "State of Nursing in Massachusetts" survey, commissioned annually by the Massachusetts Nurses Association (MNA), providing years of historical trend data.
"The hospital staffing crisis and nurses' struggle to provide safe, high-quality patient care has been driven by corporate greed and persists because of the hospital industry's refusal to listen to nurses and implement our solutions," said Katie Murphy, a practicing ICU nurse and president of the MNA. "Rather than the cause of this crisis, the COVID-19 pandemic has simply laid bare a system already broken by hospital executives. The industry claims it cannot find nurses, but the data shows there are more nurses than ever. There is not a shortage of nurses, but rather a shortage of nurses willing to work in these unsafe conditions."
"The State of Nursing in Massachusetts" this year featured an all-time high number of nurses saying hospital care quality has gotten worse over the past two years. The survey has tracked this number since 2014, when it was 38%. In 2023, 85% of nurses saw care quality decline, up two points from last year, 30 points from 2021, and 46 points from 2019. This troubling trend tracks with survey results showing increased numbers of nurses who do not have enough time to give their patients the care and attention they need and who are forced to care for too many patients at one time. In 2023, 72% of nurses saw both of those issues as "major challenges," up 11 and 13 points from 2021.
Newer nurses are disproportionately feeling the impact. Sixty-three percent of nurses with 0 to 5 years of experience say understaffing is their biggest obstacle to providing quality care, compared to 56% of all nurses. Of those nurses planning to leave the field within two years, 67% of newer nurses say they will find work outside of healthcare, compared to 31% of all nurses. Newer nurses are even more likely to support legislation the MNA has proposed to address the underlying causes of the nursing crisis. Ninety-seven percent of nurses with 0 to five years of experience say they "strongly support" limiting the number of patients a nurse is assigned at one time, compared to 76% of all nurses.
This year's survey – a randomized poll of Massachusetts RNs conducted February 28 to March 5 by Boston-based Beacon Research – was released to coincide with the Health Policy Commission's March 29 event, "Building a Robust Health Care Workforce in Massachusetts." The event features testimony from Julie Pinkham, RN, Executive Director of the MNA, as well as results from the "State of Nursing in Massachusetts."
Survey Executive Summary: www.massnurses.org/StateofNursingSummary.
Survey Charts: www.massnurses.org/StateofNursingCharts.
The survey included 531 registered nurses, drawn from a file of the 150,000 nurses registered with the Massachusetts Board of Registration in Nursing. Most respondents (59%) were non-union nurses, 36% worked at a teaching hospital, and 19% worked at a community hospital. Forty-three percent worked either in direct care outside a hospital or not in direct care.
UNDERSTAFFING DAMAGES PATIENT CARE QUALITY
The "State of Nursing in Massachusetts" began tracking the quality of care in Massachusetts hospitals in 2014. The survey asks nurses about the direction of care quality over the previous two years. From 2014 to 2019, between 27% and 39% of nurses said care quality was getting worse. In March 2021, the first survey conducted after the onset of the pandemic, that number rose to 55%. In 2022, it spiked to 83% and then rose two more points to 85% this year. The percentage of nurses in direct care at hospitals who said this year care was getting worse was even higher.
Nurses in direct care at a teaching hospital: 87% said care quality is getting worse.
Nurses in direct care at a community hospital: 90% said care quality is getting worse.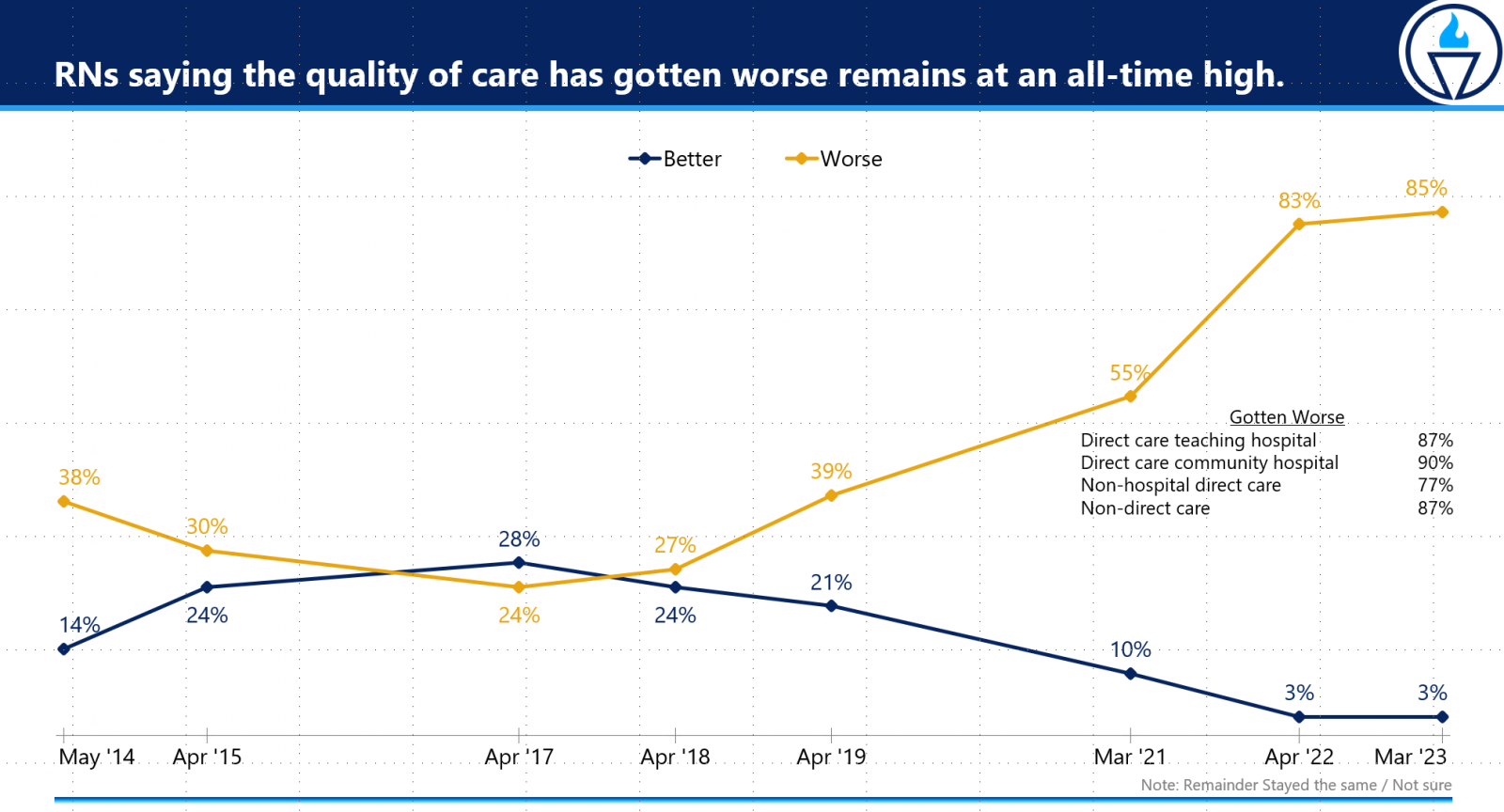 Nurses identify two chief obstacles to providing quality patient care: Understaffing and being assigned too many patients at one time. These obstacles have grown more substantial over time, as demonstrated by historical "State of Nursing in Massachusetts" survey data.
"Understaffing" as the biggest obstacle in delivering quality care to patients:

2015: 16% of nurses
2017: 33% of nurses
2018: 28% of nurses
2019: 27% of nurses
2021: 30% of nurses
2022: 55% of nurses
2023: 56% of nurses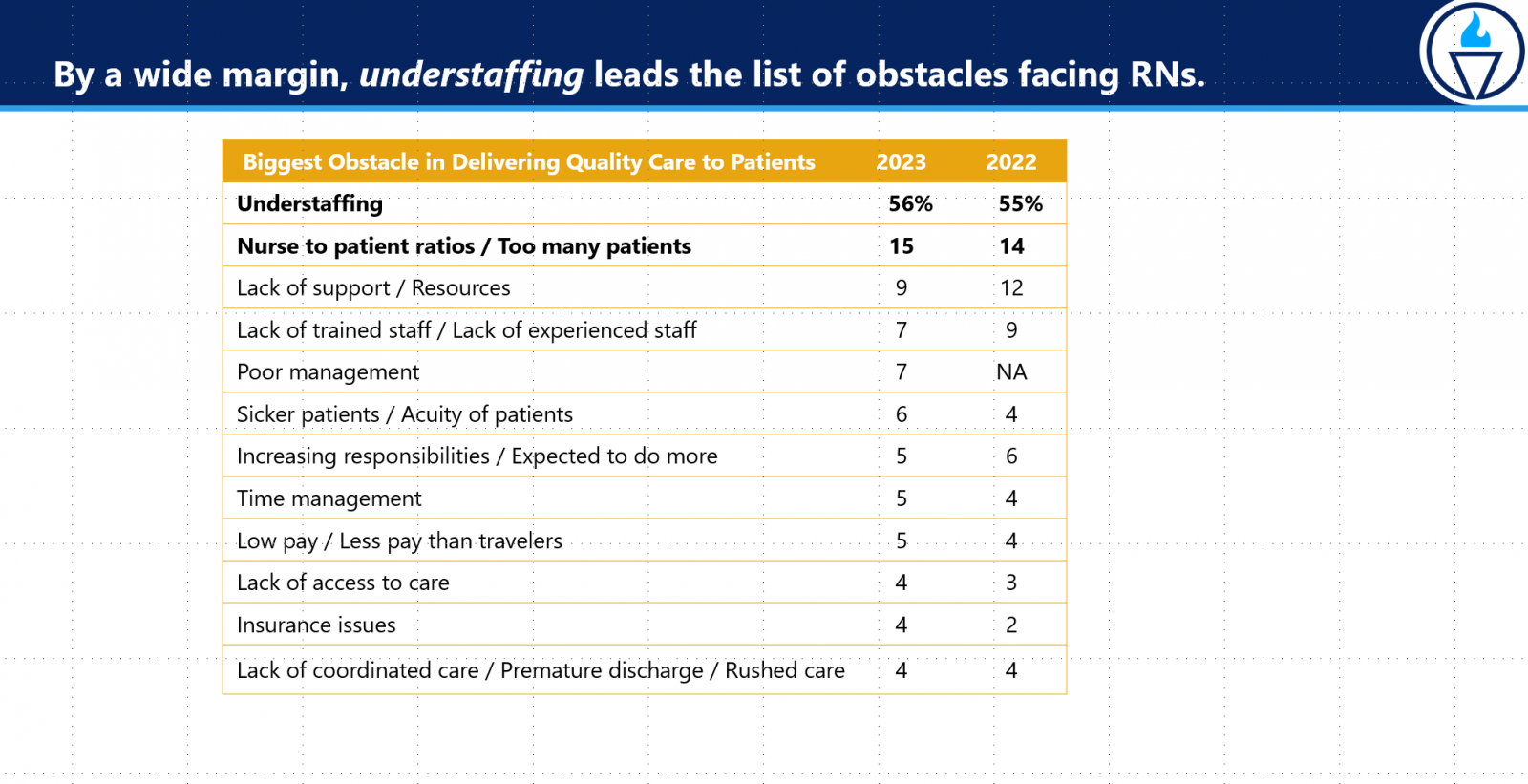 Not having enough time with patients is a fundamental part of the nursing crisis. Historical survey data from "The State of Nursing in Massachusetts" shows this problem has gotten worse. Nurses who said not having enough time with patients was a "major challenge:"
2017: 52%
2018: 65%
2019: 47%
2021: 61%
2022: 67%
2023: 72%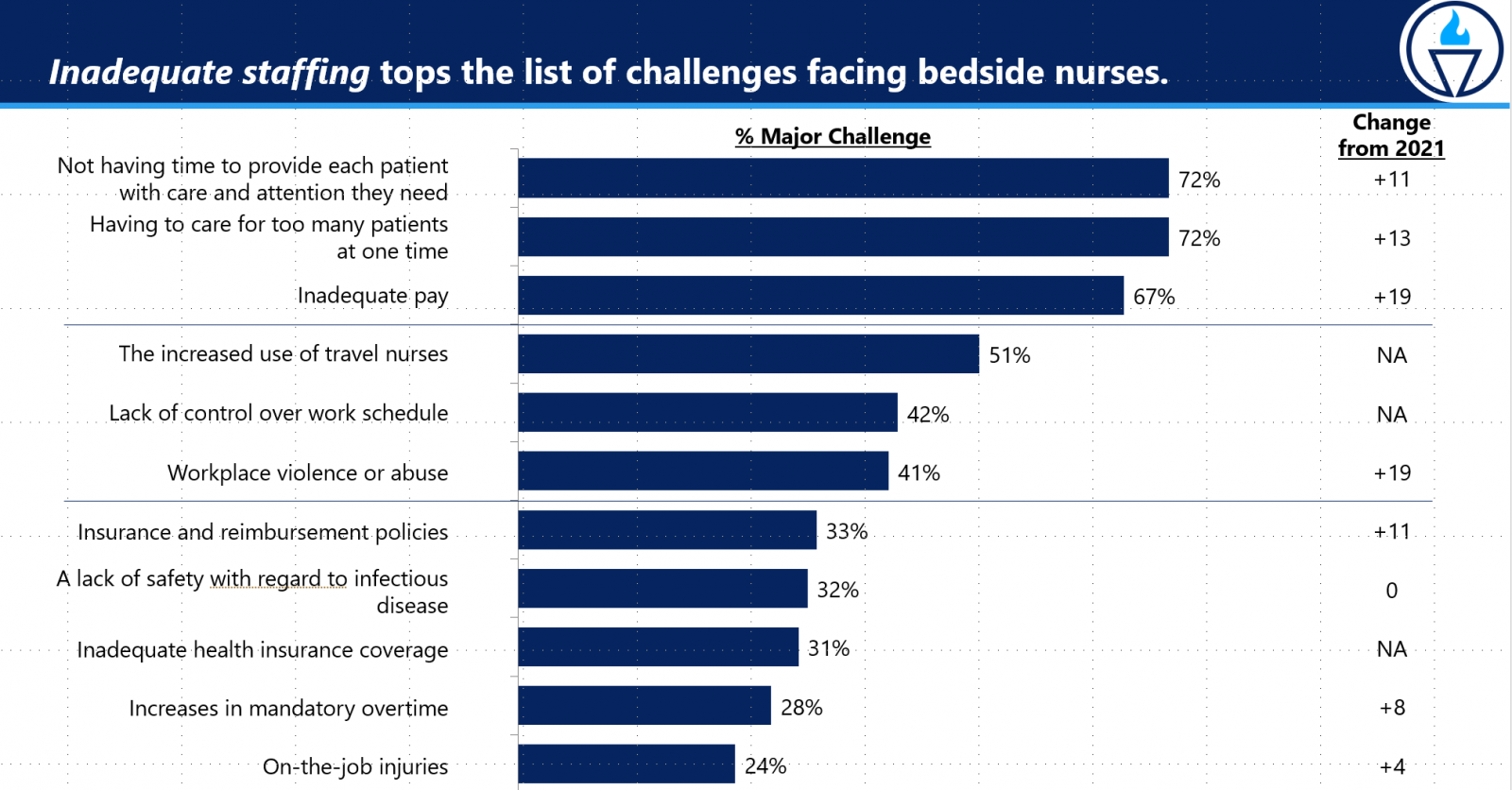 Unsafe assignments have a clear impact on patients, with nurses describing the negative outcomes:
86% – have experienced a lack of time to properly comfort and assist patients and families.
80% – lack of time to educate patients and provide adequate discharge planning.
71% – patient re-admissions.
70% – complications or other problems.
59% – medical errors such as wrong medication.
58% – longer hospital stays.
49% – injury or harm.
23% – death of a patient.
UNSAFE CONDITIONS DRIVE NURSES AWAY OR TO SEEK TEMP WORK
In addition to deteriorating care quality, a major result of worsening understaffing and unsafe patient care conditions is nurse exhaustion, stress, and burnout. This means nurses leaving hospitals, fleeing the bedside, retiring, seeking short-term contracts, or finding less intensive healthcare work. However, the state's current nursing crisis is in no way attributable to any shortage in the supply of nurses. Massachusetts recently ranked in the top five nationally for active licensed RNs per capita, graduates more than 4,000 new nurses each year from our nursing schools, and our nursing population increased by 24% over three years. According to an independent study of nursing supply by state, Massachusetts was one of only two states projected to have a surplus of nurses as of 2030.
WBUR reported last year that the state Board of Registration in Nursing showed an increase in licensed registered nurses of nearly 29,000 from 2019 to 2022 (see graph below). And that was in addition to nearly 12,000 temporary — or travel — nurses licensed during the pandemic up until that point.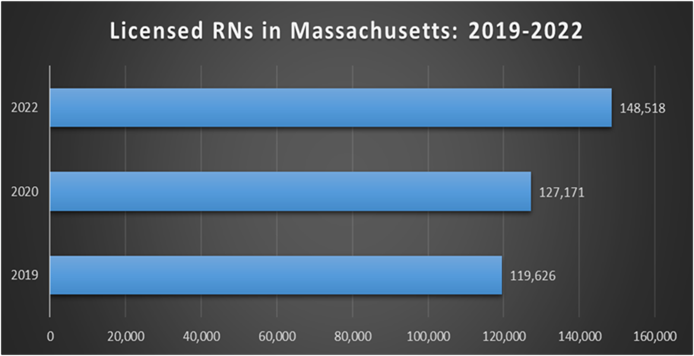 This year's "State of Nursing in Massachusetts" showed that as many nurses plan to leave the field within two years because of understaffing and burnout as retirement (40% retirement, 20% overworked/understaffed and 19% burnout/exhaustion/stress). Among nurses already not working in a hospital who used to work in a hospital, 18% left because of understaffing (the most common reason) and 15% because of work hours/schedule.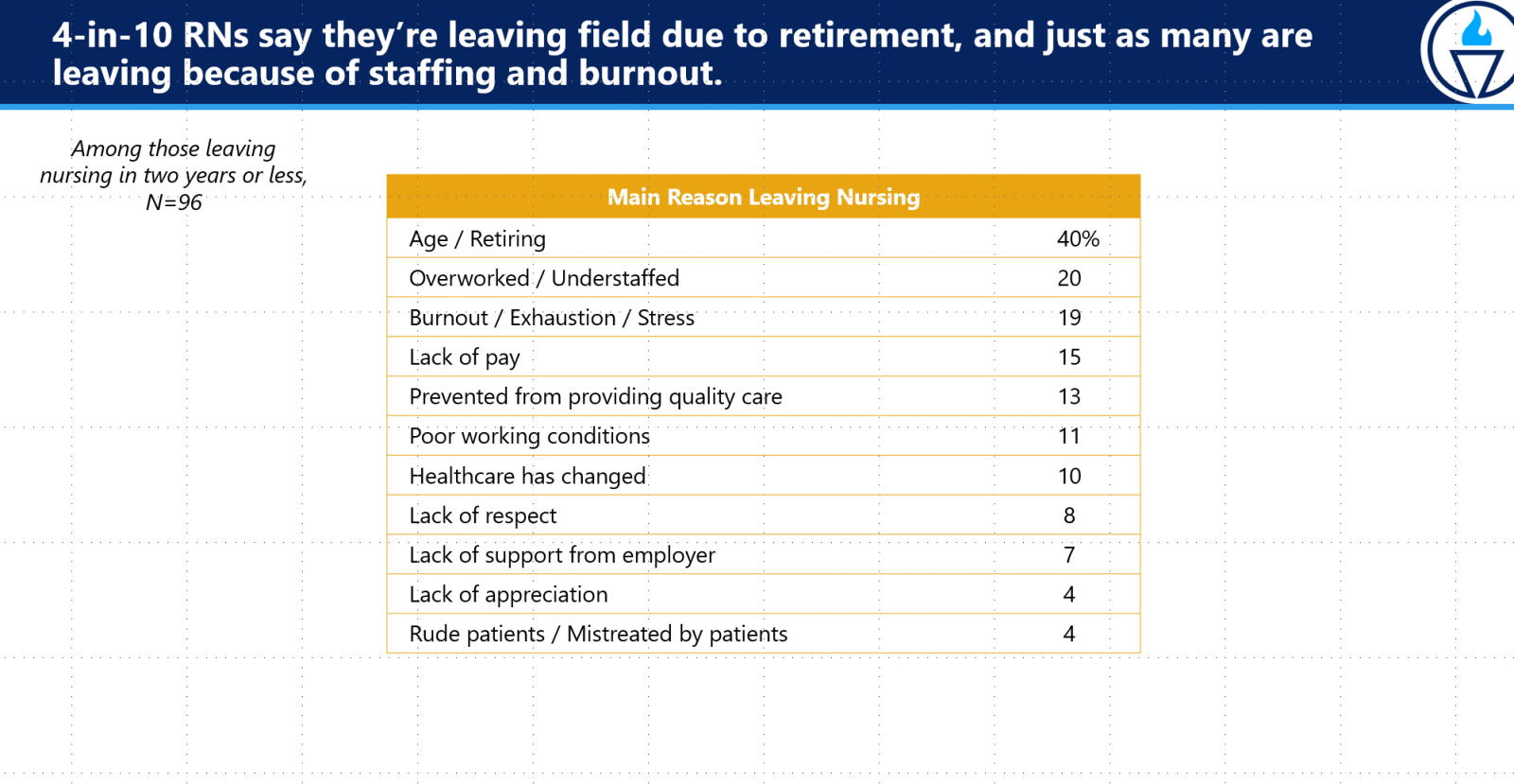 A new report from the International Council of Nurses (ICN), "Recover to Rebuild: Investing in the Nursing Workforce for Health System Effectiveness," cites more than 100 studies and reveals that 40-80% of nurses have reported experiencing symptoms of psychological distress, while nurses' intention to leave the profession has risen by 20%.
A key section on nurse burnout in the ICN report, states "One key review of burnout in nursing, which identified and examined 91 (pre-pandemic) research studies, concluded that 'the patterns identified by these studies consistently show that adverse job characteristics—high workload, low staffing levels, long shifts, and low control—are associated with burnout in nursing. The potential consequences for staff and patients are severe.'
"Nurses and healthcare professionals feel exploited by a broken system," Katie Murphy said. "Years of understaffing and unsafe patient assignments are straining nurses to the breaking point, making it hard for any nurse to stay at the bedside."
Unsustainable working conditions also put pressure on nurses to seek shorter term commitments and higher pay. This pressure, combined with a change in government regulations incentivizing permanent nurses to become traveler nurses, has contributed to high levels of temporary nurses in hospitals, driving up healthcare costs and affecting care quality.
The Boston Globe reported this month that during the height of the pandemic, the Baker administration created a new classification of traveling nurses with no salary caps and no requirements that they live at least 200 miles away. That enticed local hospital staffers to quit their jobs – and return to the same job as contract workers making substantially more money, with more flexibility in hours, Julie Pinkham, executive director of the MNA told the Globe. Pinkham said as many as 30% of nurses at some Boston hospitals were fixed contract or traditional traveling nurses during the height of the pandemic.
In addition to sapping hospitals of much-needed permanent nurses, the reliance on travel nurses has cost the industry $1.5 billion, according to a survey by the Massachusetts Health and Hospital Association, while harming care quality. In the 2023 "The State of Nursing in Massachusetts," 53% of respondents said hospitals that rely on travel nurses have worse patient care.
NURSES SEEK SAFE PATIENT LIMITS
In overwhelming numbers, nurses support a legislative solution that would develop a statewide maximum limit on the number of patients a registered nurse at Massachusetts hospitals can be assigned at one time.
The MNA and its State House partners filed new legislation this term entitled "An Act Promoting Patient Safety and Equitable Access to Care," sponsored by Sen. Lydia Edwards, D-Third Suffolk, and Rep. Natalie Higgins, D-4th Worcester. The bill features a different approach to developing nurse-patient limits in each unit of acute care hospitals than Question 1, the ballot question put forward by the MNA in 2018. It would empower DPH to hold public stakeholder hearings and promulgate regulations that establish specific limits on the number of patients a registered nurse shall be assigned to care for at one time.
Nurses surveyed this year support the legislation by a wide margin. Seventy-six percent of all nurses said they strongly support this safe patient limits bill, and 12% somewhat support it.
Nearly every nurse (97%) surveyed with 0-5 years of experience said they "strongly support" the legislation.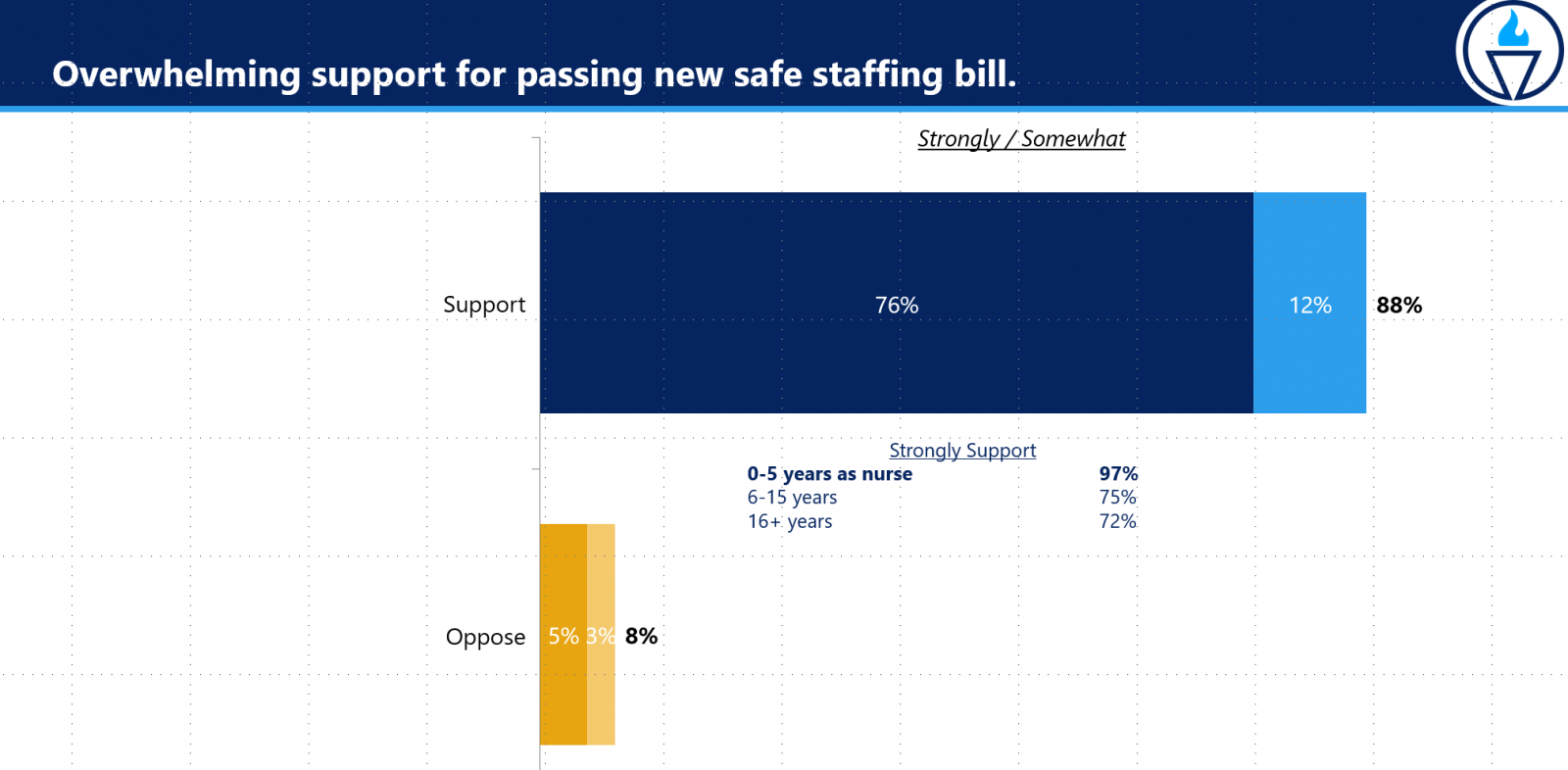 "There is absolutely no question that limiting the number of patients a nurse cares for at one time is safer for patients and the only solution to the current nurse staffing crisis," said Katie Murphy. "The benefits of safe patient limits were settled science before the pandemic, and today there is even more research and nurse experiences to support this legislation."
"It's about safety," said bill sponsor Senator Lydia Edwards, D-Third Suffolk. "Safety for patients and safety for nurses. I want to know that my nurse is working under the best conditions. To know what works best for nurses means we have to listen to them."
"I am proud to introduce legislation that will help address our nurse staffing and care quality crisis by directing the Department of Public Health to gather feedback and establish safe patient limits for all of our hospitals," said bill sponsor Representative Natalie Higgins, D-4th Worcester. "Our nurses have fought to protect our loved ones during the pandemic, and we need to make sure they can continue to provide that care safely for all of our neighbors."
A study recently published by a group of professors at the University of Pennsylvania School of Nursing demonstrates that nurse staffing problems predate the pandemic, were created by the hospital industry, and require permanent improvements to nurse working conditions. The highlights, as presented in the December 2022 edition of the journal Nursing Outlook, include:
• Better staffed hospitals before pandemic had better outcomes during it.
• Policies to prevent chronic hospital nurse understaffing are needed.
• Minimum hospital patient/nurse ratio policies recommended.
The MNA maintains a record of decades of studies supporting safe patient limits, including many published since 2020: www.massnurses.org/SafeLimitsResearch.
The most glaring symptom of the nursing crisis is the recent flurry of high profile strikes by nurses, including the groundbreaking 10-month strike by the St. Vincent Hospital nurses in 2021/2022, as well as more recent strikes or planned strikes in Minnesota, New York and California including several thousand nurses and allied health professionals – all of which called for safer staffing with safer patient limits as a primary issue. In addition, Good Samaritan Medical Center nurses, represented by the MNA, recently settled a contract after a strike vote in part because they secured strong staffing language.
NURSES FEEL LESS SAFE FROM VIOLENCE, SEEK PREVENTION LEGISLATION
A growing number of nurses fear violence in their workplace and view it as a serious problem, according to the 2023 "State of Nursing in Massachusetts." The threat is even more dire among nurses in direct care at hospitals.
24% of nurses said they do not feel safe in their workplace, an increase from 9% of nurses in 2019 and 17% in 2021.
63% of nurses said workplace violence and abuse is a serious problem, up from 42% in 2021.
76% of nurses in direct care at a teaching hospital said workplace violence and abuse is a serious problem.
79% of nurses in direct care at a community hospital said workplace violence and abuse is a serious problem.
The number of nurses who report experiencing at least one instance of violence or abuse has also jumped.
70% of nurses in 2023 said they experienced this at least once in the past two years, including 12% who said it happened one time, 35% who said two to five times, and 23% who said six times or more.
The total percentage is up from 57% in 2021 and 2019, and 65% in 2017.
Nurses have long been subject to more violence than any other profession. Nurses and nurses' aides were assaulted more than police officers and prison guards, according to a 2017 OSHA report. To combat this worsening problem, MNA nurses and healthcare professionals have proposed violence prevention legislation at the State House.
Last legislative term, Massachusetts senators and representatives passed similar versions of the MNA bill – An Act requiring health care employers to develop and implement programs to prevent workplace violence –out of committee and to Ways and Means, the final stop before a full vote by the legislative bodies. The legislation, sponsored by Senator Joan Lovely and Representative Denise Garlick, would:
Require healthcare employers to perform an annual safety risk assessment and, based on those findings, develop, and implement programs to minimize the danger of workplace violence to employees and patients.
Provide time off for health care workers assaulted on the job to address legal issues.
Allows nurses and healthcare professionals to use their health care facility address instead of their home address to handle legal issues related to an assault.
Require semiannual reporting of assaults on health care employees to District Attorneys.
GREATER DIVERSITY KEY TO ADDRESSING RACIAL HEALTHCARE INEQUITIES
Along with fixing the underlying causes of the nursing crisis and preserving essential healthcare services, MNA nurses and healthcare professionals asked Gov. Maura Healey to focus on eliminating healthcare inequities when she took office. This year's "State of Nursing in Massachusetts" survey shows nurses believe increasing diversity, having a workforce that reflects the racial and ethnic makeup of the community, and better training are key to tackling this issue.
69% of nurses said greater workforce diversity helps combat racial inequities in healthcare.
68% said patients get better care and have better outcomes when the nursing workforce at a hospital reflects the racial and ethnic diversity of the patient community.
34% of nurses (and 49% of nurses with 0-5 years of experience) said they have not received enough training to help combat healthcare inequities.
In January 2021, the MNA announced an organization-wide effort to educate and mobilize its membership to confront structural racism and its impact on the nursing/health professions, the health care workplace and in the broader society. The initiative is summarized in the MNA's Anti-Racism Position Statement.
"We believe it is vital that we do our part to educate and mobilize our members to both understand and begin to more aggressively address the crisis that is racism," Katie Murphy said. "We also know it will take a multitude of government and community stakeholders to eliminate inequities in the healthcare system. We look forward to building those relationships and doing this important work for the common good."
-###-
MassNurses.org │ Facebook.com/MassNurses │ Twitter.com/MassNurses │ Instagram.com/MassNurses
____________________________________________
Founded in 1903, the Massachusetts Nurses Association is the largest union of registered nurses in the Commonwealth of Massachusetts. Its 25,000 members advance the nursing profession by fostering high standards of nursing practice, promoting the economic and general welfare of nurses in the workplace, projecting a positive and realistic view of nursing, and by lobbying the Legislature and regulatory agencies on health care issues affecting nurses and the public.