A Force for Safety in the Workplace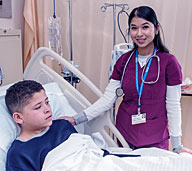 The MNA is among the first state nurses associations to create and operate an occupational health and safety program. The MNA Division of Health and Safety provides information, education and advocacy on issues related to occupational hazards as well as workplace injuries and illnesses.
The division's staff of occupational health specialists works with MNA local bargaining units to advocate onsite in labor/management meetings and provides input on contract negotiations. Staff also present educational programs for members on health and safety issues. Such issues include: latex allergy, indoor air quality, workplace violence and abuse, back and other musculoskeletal injuries, workers compensation issues and assistance with filing OSHA complaints. You can find more information on these topics on our resources page.
MNA members provide direction and input to the Division as elected members of the Congress on Health and Safety and by volunteering as participants in specific issue-related task forces such as the Workplace Violence and Abuse Prevention Task Force, the Emergency Preparedness Task Force and the Safe Patient Handling Task Force.