78% of RNs agree that the quality of patient care in Massachusetts hospitals is suffering due to unsafe patient assignments including 59% of RNs who are aware of patient complications and 46% who are aware of patients who have been injured or harmed because hospitals are forcing nurses to care for too many patients at one time
Outraged Legislators Claim the Results Sound the Alarm for Immediate Action on Pending Legislation to Ensure Safe Patient Limits for Safer Patient Care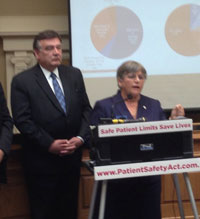 CANTON, Mass. – A study of bedside registered nurses in Massachusetts released today by State Representative Denise Garlick, RN (D-Needham) and State Senator Marc Pacheco (D-Taunton) establishes that hospital administrators are assigning too many patients to registered nurses resulting in significant harm and even death for patients. According to the survey, nearly 8-in-10 registered nurses report that the quality of patient care in Massachusetts hospitals is suffering because hospital administrators are requiring nurses to care for too many patients at once and, by more than a 2-1 margin, RNs report that unsafe patient assignments have become worse in recent years, with devastating results for their patients:
Alarmingly, nearly one in four nurses (23%) report patient deaths directly attributable to having too many patients to care for at one time.
46% report injury and harm to patients do to understaffing
51% report longer hospital stays for patients;
56% report readmission of patients due to unsafe patient assignments;
57% report medication errors due to unsafe patient assignments;
59% report complications for patients due to unsafe patient assignments;
68% report RNs don't have the time to educate patients and provide adequate discharge planning.
82% report RNs don't have the time to properly comfort and care for patients and families due to unsafe patient assignments
The release of this statewide data on the impact of unsafe patient assignments for nurses on patient mortality follows a recent report by DPH that linked inadequate nursing care and unsafe patient assignments for nurses as a contributing factor in the deaths of two infants and one mother at Cooley Dickinson Hospital in Northampton.
"It is unacceptable that erratic staffing decisions lead to medical errors, complications, readmissions and death. Patients in Boston and the Berkshires, teaching hospitals and community hospitals, union and non-union facilities need and deserve quality care. All the work of the Legislature, in this decade, on access and cost containment fails if patients do not receive safe, quality care," said Garlick, who presented the survey results at a press conference at the State House today.
Click here to read full text of remarks by State Rep. Denise Garlick.
Garlick is a co-sponsor of H.1008, The Patient Safety Act, which would address this patient safety crisis by establishing safe maximum limits on nurses' patient assignments, while providing the flexibility to adjust staffing based on patient needs. A similar ballot question, H.3843, is also pending before the Legislature. The legislature has until July to act on the measure, or the measure will go on the ballot in November.
Survey Highlight's the Industry's Willful Neglect of Patient Safety Concerns
The new study also highlights the underlying causes of these dangerous conditions and the industry's lack of effort to adjust nurse's patient assignments to ensure patient safety. For example:
By a 2 to 1 margin (48% to 23%), nurses report staffing level decisions are more often based on financial concerns than assessments of patient needs.
40 percent of nurses in teaching hospitals and 53 percent of those working in community hospitals report that their administrators are not responsive to their concerns about excessive patient assignments.
And only 30 percent of nurses report that their administrators consistently adjust their patient assignments based on the needs of their patients.
For nurses, the solution to the patient safety crisis in our hospitals is clear and unequivocal, as nearly 9-in-10 (88%) of nurses support the Patient Safety Act.
The survey detailing the views of our state's nurses on the quality and safety of patient care follows dozens of research studies that provide irrefutable evidence that Massachusetts' low standards for patient safety and the lack of safe maximum patient limits for nurses are the key reason Massachusetts ranks 42nd worst in the nation for avoidable hospital readmissions, which wastes more than $700 million annually, according to the state's Health Policy Commission.
In fact, at a recent hearing on the Patient Safety Act, Boston College Research Judith Shindul-Rothschild presented groundbreaking findings of two recently published studies that for the first time provide concrete, peer-reviewed data comparing standards of nursing care and patient outcomes for hospitals in Massachusetts, where there is no limit on nurses' patient assignments, and California, where such a law has been in place for nearly a decade. Rothschild's study provides conclusive evidence that Massachusetts hospital nurses are caring for significantly more patients than their counterparts in California and that patients in Massachusetts are receiving over three hours less care per day from registered nurses than patients on the West Coast (just over six hours of care for patients in our hospitals vs. over nine hours of care per day in California).
"From the public's perspective, it is absolutely in their interests to support this ballot initiative so that when they're in the hospital or a loved one is in the hospital, there is no doubt there will an adequate number of registered nurses to care for them to assure they get safe, quality nursing care," says Shindul-Rothschild, whose article in the Journal of Nursing Care Quality showed an association between nurse staffing in Massachusetts and a higher rate of readmissions for heart failure. She points out that heart failure is the most common and the most expensive condition for which patients are admitted to hospitals, and the number one cause of death in America.
The new survey of Massachusetts nurses was commissioned by the Massachusetts Nurses Association/National Nurses United and conducted between May 8 and May 15, 2014 by Anderson Robbins Research., an independent research firm headquartered in Boston. The 2014 survey respondents were all nurses currently working in Massachusetts hospitals randomly selected from a complete file of the 92,000 nurses registered with the Massachusetts Board of Registration in Nursing. According to the researchers, the survey results can be assumed to be representative of the 92,000 nurses to within ±7% at a 95% confidence interval.
To view photos from the event go to: http://www.massnurses.org/news-and-events/photo-gallery/p/gallery/8931