RNs: Sign Up, Donate Now to Help Our Response to Typhoon Haiyan  in the Philippines.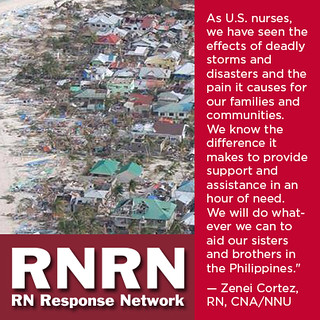 Super Typhoon Haiyan/Yolanda has left a path of devastation in the Philippines. Communication channels are not yet re-established to many areas, but current reports indicate as many as 10,000 deaths, with fears of many more casualties yet to be assessed. Several hospitals, along with thousands of homes and schools have been damaged or destroyed, and hundreds of thousands left homeless – many with long term shelter needs.
The international community is rallying to respond, and teams are already on the ground from the UN, local and international NGOs as well as disaster experts from the US, Australia, and the European Community.
Through Registered Nurse Response Network (RNRN), NNU is reaching out to support affected Philippine communities, and the local caregivers who are on the front lines of the response to Super Typhoon Haiyan
Volunteer to help If you are willing to respond to the tragic situation in the Philippines, please sign up here and provide information on your availability for the next few weeks.
Contribute to the RNRN fund established to support disaster relief services.
To donate by mail: Make checks payable to CNF/RNRN and mail them to: CNF/RNRN, 2000 Franklin St. Oakland, CA 94612.
RNRN Disaster Relief Fund: National Nurses United and the Registered Nurse Response Network (RNRN) work to send nurses to disaster stricken areas both inside the U.S. and internationally. Please complete this secure donation form and share it with friends to ensure that RNs are among the first responders. RNRN is a project of the NNU and the California Nurses Foundation, a 501(c)(3) nonprofit. Donations are secure, and tax-deductible to the extent of the law.
Thank you,

California Nurses Foundation
Registered Nurse Response Network
2000 Franklin St.
Oakland, CA 94612
RNRN is a project of the California Nurses Foundation (CNF)*, working in cooperation with National Nurses United (NNU). NNU is the nation's largest and fastest growing union of direct-care RNs, representing more than 170,000 RNs in all 50 states. We are our patient's safety net. RNs are in a unique position to continue our long and proud history as social advocates, fighting for and providing equitable healthcare for all. *CNF is a nonprofit, founded in 1971, dedicated to charitable, scientific and educational purposes.