UMass Memorial Medical Center, despite posting profits in excess of $150 Million in the last three years, announced today that it plans to sell off its home health and hospice service and lay off hundreds of other staff. The MNA/NNU has issued a statement that we are dismayed by this shortsighted decision as the home health and hospice program it is one of the most important services for effectively managing the care of patients under the new health reform law. With proper care at home, patients are kept out of the hospital, which dramatically reduces costs, and will allow the system to be more profitable in the long term.
In fact, we see no justification for the lay off of any staff or for the loss of any services in this system, as UMMMC is one of the most profitable health care systems in the state. Nurses and support staff have been struggling under current staffing levels to deliver the care patients need. We cannot imagine what will happen to our patients with any additional cuts now or in the future.
Prior to announcing the layoff and reorganization of services for patients by UMMMC today, CEO John O'Brien  had already reported in the Worcester Business Journal that the hospitals and home health program in the system were not the problem and were meeting their budgetary goals. It was UMMMC's  poor investment decisions and risky business ventures that were the problem, not to mention the millions they spend on consultants and administrators.  One of those business ventures was to hire high-priced blue-wigged models at shopping malls to solicit candidates for bone marrow testing, which the state of New Hampshire investigated for potential criminal violations of insurance and consumer laws.  Below are some excerpts from that Worcester Business Journal article.
Though hospitals are facing pressure from insurers, government and businesses to reduce costs, the UMass system's five hospitals were not the problem in 2011. For the most part, they met or slightly exceeded revenue projections while trimming spending on expenses and supplies.
UMass Medical Center in Worcester accounts for more than half of the system's revenues. And while it posted its lowest surplus in years, it met budget projections.
For UMass, the problem was a $29.7 million swing in its investment portfolio which ended the year down $10 million the, first such loss in years combined with a deficit in its formerly profitable health ventures arm. UMass Memorial Health Ventures provides lab testing, imaging and other services to hospitals and medical groups in several states, O'Brien said.
Partnerships with Fairlawn Rehabilitation Hospital, imaging centers and other facilities are a part of the ventures portfolio, which earned $27.8 million for the system in 2010, but lost $1.1 million in 2011.
The MNA is working with local policymakers and with the media to voice our concerns and opposition to these developments and will keep you posted about future developments, and we are scheduling a meeting for all the home health & hospice nurses to update them on their rights and our plans concerning the sale of the service.
Below is a selection media coverage with comments from local MNA leadership about this situation. 
Hospital seeks to trim 150 jobs, sell two divisions
By Jerry Kronenberg
Thursday, February 2, 2012
Unionized nurses are slamming UMass Memorial Health Care system's plan to save $50 million a year by cutting 150 jobs and spinning off two units that employ another 750 people.
"We all work very hard with the amount of patients we're caring for now," said nurse Lynne Starbard, co-chair of the Massachusetts Nurses Association's union local.
"If they cut any more caregivers, I don't know how bedside nurses are going to be able to continue giving patients the best quality care," she said.
UMass Memorial Health Care — which operates Worcester's UMass Memorial hospital and similar facilities in Clinton, Fitchburg, Leominster, Marlboro and Palmer — yesterday unveiled an initiative designed to keep the system in the black.
"We need to reduce our expenses by about $50 million right away if we are going to avoid ending the current fiscal year with a loss," CEO John O'Brien wrote UMass Memorial's 13,500 employees in a memo announcing the cuts.
The non-profit system said it:
plans to immediately shed 150 non-doctor jobs, "particularly in areas where we are not meeting expected (patient) volume projections."
is imposing a hiring freeze on all jobs except those "that impact patient care and safety."
has opened talks with an unidentified suitor to sell its 150-staffer Hospital Labs business. UMass Memorial said insurance payments for lab tests "have been falling dramatically."
is putting its roughly 500-employee Home Health & Hospice business up for sale, saying the unit lost $2 million last year.
"These and other steps are necessary to transform our system for a strong and successful future," O'Brien wrote staffers.
But the nurses union, which doesn't yet know how many of its 2,000 members will lose their jobs, isn't so sure.
"I've been a nurse at the hospital for many years and they've always cried that they're below productivity and in the red," Starbard said. "But we've always ended up with a profit."
– jkronenberg@bostonherald.com
---
Thursday, February 2, 2012
UMass Memorial says the health system is losing patients, spending more on free care and writing off more bills patients can't pay. (T&G Staff/CHRISTINE PETERSON)
By Lisa Eckelbecker TELEGRAM & GAZETTE STAFF
"Many of the employees have been employees of the organization for a long, long time."
— Michele M. Erikson, VICE CHAIRWOMAN, MNA BARGAINING UNIT
WORCESTER —  UMass Memorial Health Care said yesterday it will lay off about 150 of its 13,500 workers and sell two businesses that employ up to 750 people in an effort to find $50 million in budget cuts and new revenue.
UMass Memorial officials say the sprawling health system is losing patients, spending more on free care, writing off more bills that patients cannot pay and facing pressure from insurers and employers to address the escalating cost of medical care.
"We need to operate more efficiently, and we need to do more, better, cheaper," said John G. O'Brien, UMass Memorial chief executive.
Most layoffs will take place in the next few weeks at the University, Memorial and Hahnemann hospital campuses in Worcester, according to UMass Memorial.
Meanwhile, the health system is in negotiations with an undisclosed entity to sell its laboratory outreach business, which employs 400 to 600 people and offers services to doctors outside the UMass Memorial hospitals.
The health system also plans to market its home health and hospice business, which employs about 150 workers and is losing $2 million in this fiscal year.
Douglas A. Belanger, vice president of United Food & Commercial Workers Local 1445, said the union would push for any buyer of the home health and laboratory businesses to retain existing workers. About 500 of the 1,500 workers represented by UFCW Local 1445 work in those two operations.
"We're certainly going to be pushing for them to maintain their jobs, even if it's with another company," Mr. Belanger said. "Our intention is to work with any employer. We have exceptionally talented staff."
Representatives of the Massachusetts Nurses Association, which represents about 2,000 nurses in two bargaining units in Worcester, expressed dismay about the cuts. Lynne P. Starbard, co-chairwoman of the MNA unit covering about 1,000 Memorial, Hahnemann and home health nurses, said the cuts are a disservice to patients and difficult to understand.
"I have worked in this system for a long time, and every year we hear about budget cuts and declines in revenue, and then every year we're not in the red," she said "We post profits every year."
UMass Memorial runs a $2.5 billion nonprofit health system that includes a 1,000-doctor medical group plus Clinton Hospital, Marlboro Hospital, Wing Memorial Hospital in Palmer and HealthAlliance hospital campuses in Leominster and Fitchburg. The system posted a $27.9 million surplus in its 2011 fiscal year, down 67 percent from 2010.
During the final three months of 2011, the number of patients discharged from the UMass Memorial Worcester campuses dropped 6 percent over the same period a year earlier. Births fell 9 percent, and heart catheterization procedures dropped 8 percent, according to UMass Memorial officials. The number of imaging procedures such as MRIs fell 10 percent.
In a message to employees yesterday, Mr. O'Brien said UMass Memorial must "reduce our expenses by about $50 million right away if we are going to avoid ending the current fiscal year with a loss." He wrote that insurers and patients are directing doctors to send tests to less expensive labs, and that the home health and hospice business has higher costs than community-based organizations because it is part of an academic medical center.
"I think people are in shock," Michele M. Erikson, a home health nurse and vice chairwoman of the MNA bargaining unit for Memorial, Hahnemann and home health nurses, said yesterday of the decision to sell the home health business. "Many of the employees have been employees of the organization for a long, long time."
Many hospitals in Massachusetts are cutting costs as private and government health insurers push providers to rein in medical spending. St. Vincent Hospital of Worcester, a for-profit hospital owned by Vanguard Health Systems Inc. of Nashville, Tenn., laid off about 60 people last October because of lower demand for diagnostic procedures, laboratory work and elective surgeries.
Nonprofit hospitals nationwide are facing the lowest revenue growth rate in 20 years, according to Moody's Investors Service.
Insurance plans that require patients to pay more for care at certain hospitals and less for care at others may be sending UMass Memorial patients to other providers, officials said. Some patients required to make hefty co-payments every time they seek care or foot thousands of dollars in bills before insurance kicks in may be avoiding care, they said.
"Part of this is people putting off care," said Dr. Eric W. Dickson, president of UMass Memorial's physician group. "If you look at endoscopy, people are putting off colonoscopies."
---
By Robert Weisman
|  Globe Staff
February 02, 2012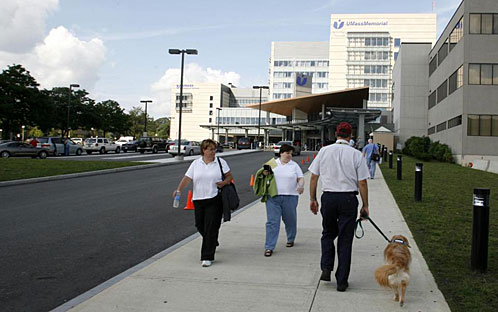 Globe File Photo/2006
UMass Memorial Health Care will cut 150 jobs at UMass Memorial Medical Center in Worcester, which has 10,000 employees.
UMass Memorial Health Care, which lost money in the last three months of 2011 amid shrinking patient volume, told its employees yesterday that it will shed 700 to 900 jobs, about 6 percent of its workforce, through a combination of layoffs at its flagship hospital and the sale of divisions that provide services such as home health care.
The health care system, which operates UMass Memorial Medical Center in Worcester and four community hospitals, is the largest employer in Central Massachusetts, with about 13,500 workers. But its profitability has been eroding for several years as it faces increasing pressure from businesses and commercial insurers to reduce costs.
Patient discharges fell 6 percent in the most recent quarter from the same period a year earlier, while imaging tests dropped by more than 7 percent, said John G. O'Brien, chief executive of the Worcester-based system. He said the numbers are declining as the system prepares to shift from a fee-for-service model to so-called global payments, under which insurers give hospitals and doctors a budget to provide patient care.
"We're getting ready for the future,'' O'Brien said, noting that the first phase of the restructuring will cut 150 jobs at the Worcester medical center. "We feel like we have to be more affordable. We hear that every day from employers in the Worcester area.''
He also cited anticipated payment cuts from Medicare and Medicaid, the government health insurance programs covering older and low-income residents, on top of earlier reductions in reimbursements.
Many of the same financial strains have been affecting other Massachusetts medical care providers. Hospital groups ranging from Boston Medical Center to Cambridge Health Alliance to Northeast Hospital Corp. of Beverly have slashed hundreds of jobs over the past two years. Sixteen hospitals, nearly a quarter of those in the state, have been losing money, according to a report last year. Last month, Taunton State Hospital, which houses 169 mentally ill patients, said it would close its doors, while long-term care provider Kindred Healthcare Inc. said it will shut its 45-bed Waltham hospital.
A report published last week by Moody's Investors Service, the New York-based credit rating agency, said the "outlook remains negative'' for the nonprofit health care sector, which has long dominated the hospital landscape in Massachusetts.
"Ongoing uncertainty about health care reform and severe federal budgetary stress is putting pressure on hospital management teams as they prepare for the coming era of lower reimbursements and difference payment schemes,'' the report said.
UMass Memorial, which eliminated 350 jobs at the end of 2010, posted an operating gain of $35 million for the year that ended Sept. 30, according to O'Brien. But that was down from a $55 million gain in the prior year and $84 million the year before that. In the first quarter of the current fiscal year – the three-month period that ended Dec. 31 – the system lost a sum that has yet to be reported, he said.
One factor in UMass Memorial Health Care's predicament is that its Worcester medical center, a teaching affiliate of the University of Massachusetts Medical School, is on the highest-cost tier of many new insurance plans that give members the option of paying less by seeking care at more affordable providers, O'Brien said. Another is the weak economy, which has caused many people to postpone elective surgery because they have lost their insurance or are reluctant take time off from work and jeopardize their employment.
In a memo to employees, O'Brien outlined the system's strategy. "To respond to immediate declining volumes and reimbursements at our medical center during the first quarter of this fiscal year,'' he wrote, "we need to reduce our expenses by about $50 million right away if we are going to avoid ending the current fiscal year with a loss.''
The system also plans to sell two divisions over the next few months. One, employing about 150 people, provides home health and hospice services. Another, with 400 to 600 employees, performs lab tests for doctors offices in Massachusetts, Connecticut, New Hampshire, and Rhode Island. Many employees at those units may be retained by the eventual buyers.
Labor union leaders, who were briefed on the hospital system's plans yesterday, were quick to protest the moves.
"Nurses are upset and concerned,'' said Lynne Starbard, who cochairs the Massachusetts Nurses Association bargaining unit representing about 1,000 nurses in the UMass Memorial system. "We work very hard to give our patients good quality care, and when you cut back like they're doing, you cut back on that care to patients.''
Starbard cited the continuity of care that has existed when patients discharged from UMass Memorial's hospitals are sent home to be treated by nurses from the same system. "I feel this is disruptive,'' she said. "When patients leave our hospitals, they want to still be part of us. I think that care will be compromised for the patients.''
Cost-saving steps will include paring 150 jobs in the next several weeks from the medical center, which has 10,000 employees. A wide range of departments will be affected by the cuts, which will include managers as well as union employees. No doctors will be laid off, though some are retiring and will be included in the total count.
UMass Memorial, which has more than 500 employed or affiliated primary care physicians, will keep labs that conduct "rapid response'' tests for its hospitals as well as pathology tests such as pap smears and tumor biopsies.
While the system will cut jobs, it will also be hiring employees, ranging from urologists to pharmacists, selectively this year. That will reduce the overall job losses, according to O'Brien. He said the system plans to hire a consulting firm to help it reorganize and control expenses ranging from wages and benefits to pension costs.
Robert Weisman can be reached at weisman@globe.com.