Group says resources will help consumers assess and report patient safety issues
BOSTON — Leaders from more than 60 of the state's most influential health care and consumer advocacy organizations today urged the Legislature to enact the Safe Patient Care Bill, and warned Massachusetts patients to take precautions when hospitalized in order to be certain that understaffing does not jeopardize their care.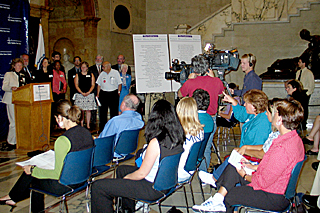 At a press conference at Nurses Hall in the State House this morning to announce its formation, the Coalition to Protect Massachusetts Patients declared its support for House Bill 1282: An Act Ensuring Quality Patient Care and Safe RN Staffing, which is now before the Joint Committee on Health Care.
In an innovative move to help educate consumers, the Coalition also unveiled a Checklist of Key Questions that patients need to ask when being admitted to a hospital in order to assess their safety. The questions include:
Am I being cared for by a registered nurse?
How many patients is my registered nurse caring for?
What type of hospital unit (surgical, medical, intensive care, etc.) am I in?
Where can I go to find the appropriate registered nurse-to-patient ratio for that unit?
Who should I contact if I want to report an incident related to nurse understaffing?
A printable copy of the checklist for patients to take with them to the hospital is available on the Coalition's Web site at www.protectmasspatients.org.
"Knowing the answers to these questions is imperative for patients who are being cared for in acute-care facilities," said Phil Mamber, president of the Massachusetts Senior Action Council, "because the nation's leading medical journals have each reported that the higher the RN-to-patient ratio in a hospital the more likely there will be patient deaths or complications after surgery."
"The Quality Patient Care/Safe Staffing bill will have a profound impact on the safety and quality of care provided to patients," said Dr. Lisa McCoy of the American Cancer Society (ACS) who also spoke at today's press conference. "This initiative will enhance the efforts of the ACS and its wide volunteer base in ensuring that those who are afflicted with cancer have safe, quality care. As an on-going commitment to our mission we proudly support this important patient-safety initiative."
Joining Mamber and McCoy at today's press conference were members from Health Care for All; the Massachusetts Senior Action Council; the Massachusetts Association of Older Americans; The American Heart Association; the American Cancer Society, the American Diabetes Association; The National Association of Social Workers; and the National Organization for Women.
"We are proud to be here today with more than 60 consumer and advocacy groups from across Massachusetts to support this important patient-safety initiative," said Carlos Alverez, executive director of the American Lung Association of Massachusetts. "Our organization works tirelessly to educate and inform citizens about a variety of lung-related diseases and their causes, and we work even harder at finding disease-prevention techniques and treatments. But if patients are not getting the appropriate nursing care when they're in the hospital, then our work is truly diminished."
The Coalition also announced that it established a telephone hotline (617.731.2813) that patients can use to report their safe-staffing concerns, their complaints and instances of inadequate care. In addition to the patient checklist, www.protectmasspatients.org will offer other consumer-oriented resources, including details on RN-to-patient ratios and research on hospital staffing. Both resources were available to consumers at the start of business on Wednesday morning.
Julie Pinkham, RN, and executive director of the Massachusetts Nurses Association, said that the availability of these new consumer-advocacy tools underscores that the Coalition will be "waging an all-out campaign to rally the public and urge lawmakers to vote for the Safe Patient Care Bill."
"The public needs this legislation," Pinkham said. "The public wants this legislation. We will now mobilize people to help overcome special interest lobbying on the part of the health care industry."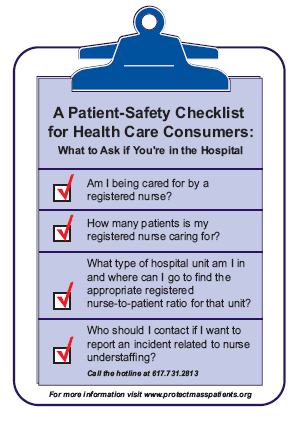 A survey earlier this year by Opinion Dynamics (ODC) found that 82 percent of registered voters support legislation to regulate RN-to-patient ratios and that 75 percent are willing to pay more for their health care in order to guarantee their safety. A separate June ODC survey of Massachusetts RNs found that 87 percent of nurses report having too many patients to care for, and that the results are devastating to patients: Nearly one in three nurses (29 percent) report patient deaths directly attributable to having too many patients to care for, and two-thirds report instances of patient complications or substandard care because of understaffing.
H.1282, which aims to mandate RN-to-patient ratios in all acute care hospitals in Massachusetts, was developed in response to studies by the New England Journal of Medicine, The Journal of the American Medical Association, the Joint Commission on Accreditation of Healthcare Organizations, and other prestigious researchers revealing that the more patients a registered nurse cares for, the higher the risk of injury, illness and mortality to those patients. H.1282 also aims to end the current nursing crisis that exists in the Commonwealth, in light of findings that overwhelming patient loads are the single biggest reason why RNs are leaving the bedside in droves.