News & Events
Media Coverage of the Leominster Hospital Nurses' Vote to Strike
06.25.2015
Below is a tremendous story about the overwhelming vote last night by MNA nurses at UMass/Health Alliance Leominster Hospital. The story was top of the fold in this morning's paper, and if you follow the link below to the paper's web page, there are two great videos of the nurses speaking about the vote, and their commitment to use their union power to improve dangerous staffing conditions at the facility, and to protect their benefits. Way to go LH RNs!!!

http://www.sentinelandenterprise.com/news/ci_28379246/nurses-ok-one-day-strike
Nurses OK one-day strike
By Jon Bishop
Updated: 06/25/2015 08:17:12 AM EDT0 Comments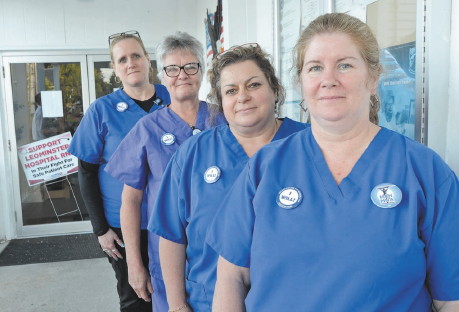 From left, nurses Valerie Rainville, Anne Hamilton, Natalie Pereira and Theresa Love stand outside the Leominster Veterans Center during the strike-authorization vote on Wednesday evening. The registered nurses of HealthAlliance Hospital, who are unionized with the Massachusetts Nurses Association and who have been working to negotiate a new contract with UMass Memorial Health Care for more than a year, held a vote by members to authorize a one-day strike. SENTINEL & ENTERPRISE PHOTOS / Ashley Green

LEOMINSTER -- Nurses at HealthAlliance Hospital voted Wednesday to authorize a strike.

Nurses have been working to negotiate a new contract for more than a year, according to a press release from the Massachusetts Nurses Association.

The release said the vote follows 17 negotiation sessions and two informational pickets. Negotiations began in May 2014, it said.

This spring, a federal mediator came to the table, according to the release.

Outstanding issues include staffing language in the nurses' contract and "a dangerous proposal that would have charge nurses on the hospital's critical care unit carrying a regular patient assignment in addition to their other crucial responsibilities," the release said.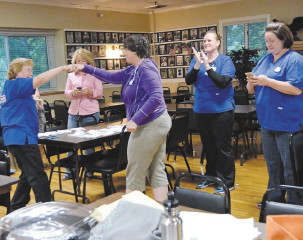 Nurses celebrate after hearing the results of the vote to authorize a one-day strike.

Natalie Pereira, the MNA bargaining unit chairwoman at HealthAlliance and a registered nurse on the medical-surgical unit, said despite the sessions, management has not given nurses safe staffing numbers.

"No nurse ever wants to strike," she told the Sentinel & Enterprise on Wednesday.

But after 17 sessions, management doesn't see it, she said.

Anne Hamilton, a labor and delivery nurse, said she voted yes "because patients win when nurses stand together."

"This is for patients," she said.

She added that "you've got to stand up and be counted here."

Valerie Rainville, a float nurse, said she voted yes because she sees a lot of different areas in the hospital and many of them are understaffed.

Diane Lane-Cormier, union representative for Foster Wing (a progressive-care unit), said some colleagues came out to vote even in the face of personal hardships.

"We had 100 percent of the nursing staff show up and vote," she said.

Lane-Cormier said one of them had undergone major surgery but still said he'd come to the vote.

"He showed up," she said.

She said he told them he couldn't miss it; it was too important.

"It was quite an emotional day," she said.

"They had to come down, no matter what was going on in their personal lives."

The vote, which took place from 7 a.m. to 8 p.m. at the Leominster Veterans Center, was by secret ballot. Sandy Ellis, an MNA staffer and a registered nurse, said an "overwhelming majority" of members voted.

"It was amazing," she said of the vote, which she also called "overwhelmingly favorable."

Though she declined to reveal the final numbers were, she said more than 200 nurses showed up to vote.

Pereira said the vote was "not anything that I didn't expect."

"By this overwhelming response, I think our desire to keep our patients safe rings loud and clear," she added.

In a statement emailed to the Sentinel & Enterprise, HealthAlliance President and CEO Deborah Weymouth said: "HealthAlliance remains committed to reaching a fair and equitable settlement with the Leominster MNA during our next session scheduled for June 29th."

"Although this step of taking a strike vote is not unusual during collective bargaining, we hope to reach a mutually acceptable agreement that balances the needs of our community and our patients while acknowledging the critical role our nurses play in caring for our patients," she said in the statement. "We maintain that addressing issues collaboratively and partnering with each other in the symbiotic relationship of hospital and nurse is the best path forward.

"Should a strike be called, the excellent quality of care that patients have come to expect from HealthAlliance Hospital will continue without interruption, as we have begun extensive preparations," she said.

According to the press release from the MNA, while the vote does not mean the nurses will strike immediately, it gives the nurses' negotiation committee authorization to call a one-day strike if and when it feels it's necessary.

Should the committee issue an official strike notice, the hospital will then have 10 days to prepare before the nurses go out on strike, the release said.

Follow Jon on Twitter and Tout: @JonBishopSE.

Read more: http://www.sentinelandenterprise.com/news/ci_28379246/nurses-ok-one-day-strike#ixzz3e4zN165z