Events Calendar
Examining the Impact of Racism and Social Injustice in Nursing Practice and Healthcare
11.18.2020, 11:15 am - 2:00 pm
2020-11-18 11:15 am
2020-11-18 2:00 pm
America/New_York
Examining the Impact of Racism and Social Injustice in Nursing Practice and Healthcare
http://www.massnurses.org/news-and-events/events/p/event/11846
MNA
MNA
donotreply@massnurses.org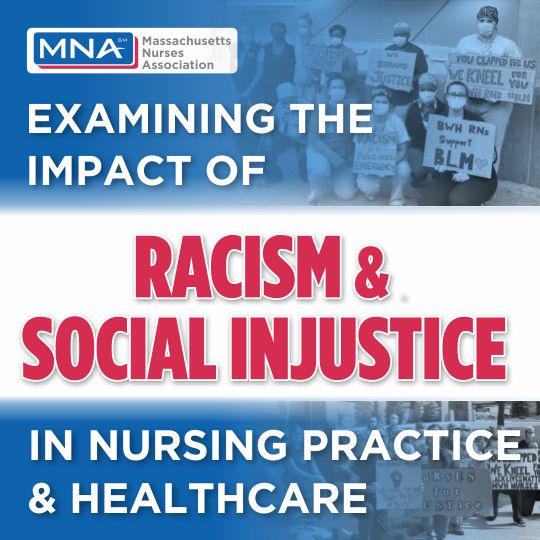 Healthcare settings are often challenged to meet the needs of diverse patient populations. However, the lack of diversity among healthcare professionals, as well as the social injustices that are experienced by people of color who do work in healthcare, are rarely discussed.
This free program will examine the impact that racism and social injustice have on nursing and healthcare practice and will also highlight the lived experiences of nurses who come from diverse backgrounds. The impact of social disparities that exist in healthcare organizations and the ethical implications of these disparities will be identified, as will supportive strategies that can benefit all nurses and the patient populations they serve.
Keynote Speaker: Dr. Michael Eric Dyson. Dr. Dyson is a Georgetown University sociology professor, a New York Times contribung opinion writer, and a contribung editor of both The New Republic and ESPN's The Undefeated website. He has authored more than twenty books, including Tears We Cannot Stop: A Sermon to White America and Jay-Z: Made in America. He is also the winner of an American Book Award and two N.A.A.C.P. Image Awards.
Panel 1 Topic: The Lived Experience, featuring panelists Charlene Hollins, MSN, APRN, FNP-C, and MNA member; Candice Jones, RN and MNA member; Judith Laguerre, BS, RN, and MNA member; Shannon Niles, BSN, RN, and MNA member; Kaydean Shorter, BS, RN, and MNA member.
Panel 2 Topic: Our Charge: Framing the Work Through the Lens of Ethics, featuring panelists Claudine Bruff-Lopes, BSN, RN, and President of Black Nurses Rock; Samantha Joseph-Erskine, BSN, RN, MNA Board Member, and Chair of the MNA Diversity Committee; Sarah Moroney, MS, RN, and MNA Ethics Committee; Victoria Pike, MS, MSN, RN-BC, CPHQ, MNA Board Member, and Regional Vice President of the Filipino Nurses Association.