2010 News
Division of Legislation strengthened with arrival of new associate director
04.19.2010
From the Massachusetts Nurse Newsletter
April 2010 Edition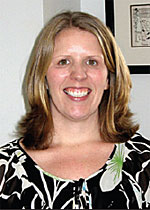 This past December Lainey Titus joined the MNA's division of legislation and governmental affairs as an associate director and grassroots organizer for Region 4, which is the Merrimack Valley/North Shore area of Massachusetts.
Formerly the chief of staff for Rep. Steven Walsh (D-Nahant), Titus was employed at the State House for more than six years. She swiftly worked her way up the ladder during her tenure — starting as Walsh's aide during his first term in office in 2003 and ultimately moving into positions that included vast and detailed supervisory responsibilities.
"Having the opportunity to work with Rep. Walsh from day one was invaluable," said Titus. "It gave me a chance to see how everything worked, the entire legislative process. And it all took place in an environment that let me brainstorm, troubleshoot, build connections and support constituents while working directly with elected officials."
While working for Walsh, the list of Titus' job responsibilities was impressive: to manage all of the chairman's staffers; to act as his primary liaison with committee members, legislative leaders and local, state and federal officials; to manage press events; to write speeches and remarks; to prepare testimony; and to draft budget amendments.
"Lainey arrived at the MNA knowing the commonwealth's legislative system inside and out," said Andi Mullin, the division's director and the person responsible for hiring Titus. "She had the expertise, experience and in-thebuilding relationships that made her a perfect match for the MNA. In addition, both her mother and sister are nurses."
In her new role, Titus will be supporting the MNA's legislative initiatives by working closely with Region 4 members with the goal of building a community of nurses and labor activists who can influence change at the State House.
Titus is a graduate of Rivier College in Nashua, N.H. and of UMass Boston, where she earned a master's degree in public affairs from the McCormack Graduate School of Public Policy. She is a lifelong resident of Nahant.