2010 News
Support Striking Shaw's Distribution Center Workers Stand in Solidarity
03.26.2010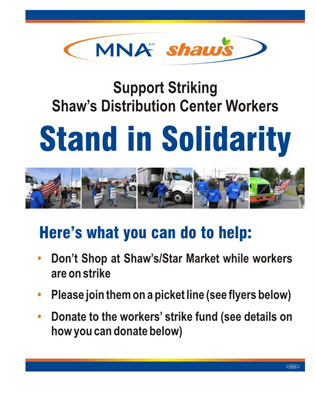 Stand in Solidarity
Here's what you can do to help:
Don't Shop at Shaw's/Star Market while workers are on strike.
Please join them on a picket line: MNA has designated Thursdays as a solidarity day.
Walk a picket line at one of the following places between the hours of 8 a.m. – 8 p.m.
If you can't make it on Thursdays they would appreciate any other time you can walk with them in solidarity.
Donate to the workers' strike fund.
Checks can be made payable to: UFCW Local 791 Methuen D.C. Strike Fund & sent to:
"UFCW Local 791 Methuen D.C. Strike Fund"
UFCW Local 791 • 55 Norfolk Ave • South Easton, MA 02375-1190
Picket C&S in Hatfield to Support Shaw's Strikers in Methuen
Friday March 26, 12:30pm
Our brothers and sisters at the Shaw's warehouse in Methuen went out on strike on March 7. Shaw's is refusing to come back to the bargaining table for meaningful negotiations.
Shaw's wants concessions and the right to bring in temp workers to replace workers who leave. Shaw's, like other grocery stores, has been successful thanks in no small part to the recession which has driven people to eat at home and buy generics. This company is profiteering from our hardships and is greedily demanding more profits at the expense of its workers (members of United Food & Commercial Workers Local 791, http://www.ufcw791.org/). More details here.
Now Shaw's has recruited C&S in Hatfield to scab. C&S Wholesale Grocers of Keene NH is the largest food wholesaler in the US. With its Methuen Distribution Center struck, Shaw's is now buying from C&S, while also trying to hire scabs at the MDC.
Come bolster the picket line at C&S!