2010 News
MNA Member Dispatches from the Haiti Relief Effort
02.12.2010
MNA nurses have volunteered in huge numbers for relief work in Haiti. Several Massachusetts nurses arrived in Haiti as part of Boston teaching hospital and Caritas delegations to Haiti. Others expect to depart shortly for Port-au-Prince and other areas stricken by the January 12, 2010 Magnitude 7.0 earthquake. The earthquake claimed at least 100,000 or more lives and uprooted at least a half million people from their homes, with both counts sadly climbing daily.
MNA and the National Nurses United's RNRN Network (Registered Nurses Response Network) are working to get the currently 12,000+ volunteer nurses to Haiti safely and as quickly as possible.
RNRN/NNU has signed an agreement with the Navy for assignments in the Navy's relief mission, beginning with the U.S.N.S. Comfort, currently off the coast of Port-Au-Prince. Subsequent plans are for an expeditionary Navy medical treatment facility on the ground in Haiti. RNRN representatives also met last week in Haiti with a number of U.S. and international governmental, non-governmental, private and faith organizations and medical support agencies to review other potential assignments with a sobering assessment of the chaotic conditions on the ground.
Haiti is the poorest country in the hemisphere. Reports are that food is hard if not impossible to get, there is almost no running water or electricity, open sewers are everywhere and many spots that are in desperate need of nursing care nevertheless have difficulty accommodating the added needs of volunteers.
Consequently, this is expected to be an ongoing relief campaign that may continue for months in the healing and recovery process for Haiti.
Betty Sparks, RN, Chair of the Massachusetts Nurses Association's Emergency Preparedness Task Force, former MNA Board member, and O.R. nurse at Newton Wellesley Hospital has been an active DMAT emergency responder for many years. She spent several weeks responding to Hurricane Katrina in New Orleans and surrounding areas. Betty left for Haiti February 1 as a member of an IMSURT (International Mobile Surgical Urgent Response Team, the international component of DMAT (Disaster Medical Assistance Team) which operates under the jurisdiction of the NDMS (National Disaster Medical System) and HHS (U.S. Department of Health and Human Services).
Betty has sent an initial dispatch from her DMAT Team commander, which is posted below.
As MNA receives updates from nurses in Haiti we will post them to provide firsthand information on the situation in Haiti from our members.

Date: February 12
Subject: Haiti update #4
From: Ed Arndt, NP
I just got home from Hospital St. Nicolas in St. Marc Haiti, and promised Mike I would forward these to you. As Mike does so well at the Brigham, he is working at the hospital in the Emergency Department, and is representing the MNA proudly. We are all priveledged to work with him and his leadership skills are evident. The conditions of the facility, the earthquake victims and the poverty in the area are all challenges we face acutely here. Mike is working hard to help his patients, their families and his peers, and look toward a solution that is driven by the Haitian nursing staff, their needs and the kind of hospital they want for the future once we leave the area; a solution that the Haitian nurses can manage themselves.
Sincerely,
Ed Arndt, NP
BWH Nurse Practitioner
MNA member

Date: Sun, 7 Feb 2010 19:56:23 -0500
Subject: Haiti update #3
From: DMAT MA2
Super Bowl Sunday in Haiti,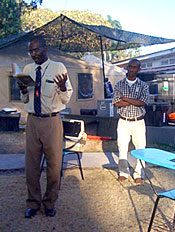 Today was a fairly quiet day as the people of Haiti often stay in what they now consider their homes on Sunday. The site has been treating on an average 150 patients a day. The day started with a Mass on site. Last night Sean Penn returned to the site with a donation of a portable x-ray machine. Many of the responders learned how to operate the new equipment today. Everyone is extremely excited with their new on site x-ray capabilities.
Tonight the team will try to find some time to celebrate the Super Bowl. The responders have created a Super Bowl Pool. All funds raised through the pool will be donated to the Haiti HIV clinic. In place of money the winners will receive a variety of prizes (will have to wait until tomorrow to find out what they are) Knowing the organizers of this event I am sure they will be creative winnings.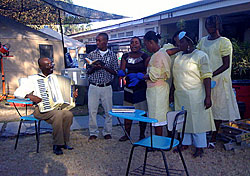 I have include 2 pictures from today's church service.
By the way to all DMAT members that deployed for hurricane Gustav, Phyllis for Our Lady of the Lakes Hospital emailed me today and says hello from the leadership there. She also said "go Saints"
Have a safe and fun Super Bowl Sunday
Gina
Gina Smith
Team Commander
MA-2 DMAT


From: Betty Sparks
Date: February 7
Subject: Haiti Update #2
Read update and view photos in photo gallery


From: MA2 DMAT
Date: February 2, 2010 2:43:03 PM EST
To: MA2 DMAT
Subject: Haiti Update #1
All 26 members of the MA-2 DMAT arrived safely at Dulles airport yesterday. The team spent their first night at a hotel in Virginia. The following day was spent validating immunizations, fit testing, and attending a briefing related to their travel and mission assignment in Haiti.
The team reports that everyone is in good spirits and are getting to know members from other teams that they will be spending the next 12 days with in Haiti. The International Mobile Surgical Team (IMSURT) that our members will be serving on consists of responders from many states including, Florida, Alaska and others. Our team members will end their day early to enjoy having a pillow and likely their last warm shower for awhile. We wish them safe travel.
If all goes according to plan, the team will depart for Haiti sometime around 3:00 am. Most likely by a charter flight.
We hope to provide you the next update no later than 6 PM tomorrow February 3rd. If I receive a call when they land in Haiti I will send that out as well.
Gina
Gina Smith
Team Commander
MA-2 DMAT