2010 News
Operating Room Nurses Deploy to Haiti
02.02.2010
A team of operating room nurses packed their bags Monday for assignment Wednesday aboard the U.S. hospital Naval ship USNS Comfort, the first in what is expected to be a series of continual deployments with the Navy disaster relief effort in Haiti for volunteers with the NNU's Registered Nurse Response Network.
"You see these things happening and think I wish some way I could do something about it," said one of the nurses Tim Thomas on Monday. "It's so far away and those people are so cut off. Most of us really can't do anything apart from writing a check. So I think this is an extremely rare opportunity because only a handful of people get to do the hands on care."
RNRN/NNU has signed an agreement with the Navy for continuous assignments in the Navy's relief mission, beginning with the Comfort, currently off the coast of Port-Au-Prince, and then expected to include an expeditionary medical treatment facility the Navy is setting up on the ground in Haiti.
This is expected to be an ongoing relief campaign that may continue for months in the healing and recovery process for Haiti.
Report Back from Haiti...
Concurrently, a delegation of RNRN representatives returned from Haiti last week after meeting with a number of U.S. and international governmental, non-governmental, private and faith organizations and medical support agencies to review other potential assignments with a sobering assessment of the chaotic conditions on the ground.
At many sites, groups were devoid of food, medical supplies, and ability to accommodate teams of relief workers, a problem that groups wishing to help around the world have also experienced.
Not only are countless numbers of Haitians homeless and in need of food and other basics and medical care, many of the agencies on the ground have great difficulty providing the critical assistance that is needed.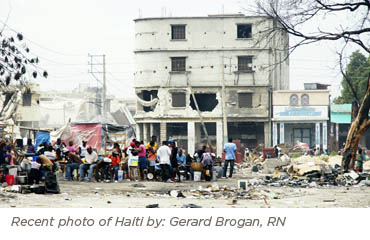 "Haiti was already the poorest country in the Western Hemisphere and the disaster has only aggravated the crisis," said Gerard Brogan, RN, after his return last Friday. "Food is hard to get, there is almost no running water or electricity and open sewers everywhere. It's frustrating that nurses may not be able to give the care they've been trained to provide."
But RNRN staff are continuing to plan arrangements while other RNRN volunteers deploy with the Navy.
RN Voices...
"I thought it was devastating and how frightened the people must be," says Patricia Taylor of Chicago, another OR nurse heading to the Comfort. "I kept thinking about how I would feel if I was there, and praying for them not to lose hope. I was raised to help people that need help. It was nothing heroic, just plain common decency."
Thomas, an OR nurse at Watsonville (Ca.) Community Hospital, has his own-post-earthquake disaster relief experience closer to home. His town Watsonville was one of the hardest hit in the 1989 Loma Prieta quake in Northern California, after which the damaged hospital was shutdown "and we did surgery out in the parking lot."
This won't be his first disaster mission outside Watsonville. Thomas reports he has volunteered for medical missions, in China and India for "where the resources were limited. It's always a consideration what resources can we apply to this person, given what we have."
"My biggest concern is that we are able to match up resources with needs and end up having helped some people as opposed to getting there and not having something we need to accomplish our mission and having it be less productive than we imagine," Thomas notes.
Are Your Vaccinations Up to Date?
Anyone who is deployed in the Haiti relief effort will need Hepatitis A, Hepatitis B, Typhoid, Tetanus, MMR vaccinations and malaria pills. Please maintain records of your vaccinations. While not everyone will ultimately be able to be sent, completed vaccinations will hasten this effort.
And thanks again for volunteering for this heroic effort.
In Unity,
Registered Nurse Response Network
National Nurses United
www.RNResponseNetwork.org
www.NationalNursesUnited.org
2000 Franklin Street
Oakland, CA 94612
Donations are welcome at:
www.SendANurse.org