2010 News
Region 4 Continues Vigorous Community Outreach
02.01.2010
Hats, Mittens and Gloves for School Kids - Collection is Big Success!
Thank you and Keep it Going!
Region 4 members have collected donations sufficient to fill 4 large bags has been fantastic. Many of the items are hand-made. Thosepurchased go over really well too, especially with kids whomust look cool.
Several area merchants have given us enormous discounts when they hear the items are going to school nurses who give them directly to the kids they see getting off the bus or out at recess who need them.
So far, we've delivered one bag to each of our school nurse bargaining units in Region 4: Gloucester, Bedford, Methuen, and Wilmington. The need continues so keep the warmth coming. For pickup, contact Region 4: 978.977.9200
Flu Clinics
Public vaccinations for seasonal and H1N1 flu require lots of volunteers, especially nurses.Our members have responded to calls from our colleagues in public health departments and schools, for help with flu clinics in Methuen and in Lawrence over the past two months. We are very grateful.
Helping Our Neighbors Get By

The state of the economy may be slowly improving, but many of our friends, families and neighbors continue to struggle. Job losses remainvery high.They often result ininsufficient funds and tremendous anxiety about food and shelter, even among people who have never had to worry about such things in the past. The effects on physical and mental health are clear to nurses.
In recognition ofunprecedentedneeds, Regional Council 4 voted in December to make a $1,000 donation,on behalf of our 4,000 members, to the "Santa Fund" coordinated by the Lawrence Eagle Tribune. Funds are managed by the Salvation Army and administered by Family Services, both of Lawrence. Last year, donations served over 1,000 families, including 2,400 children and nearly 1,800 adults. The numbers will probably be even greater this year.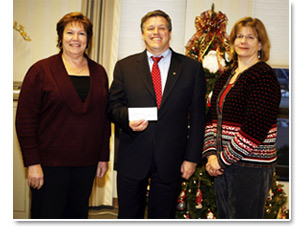 On behalf of the 4,000 members of MNA Region 4, Patty Comeau, (l.), Chair of Regional Council 4 and Methuen School Nurses, and Maureen Travis (r.) Chair of our Community Outreach Committee and of Wilmington School Nurses, presented a check for $1,000 for the Santa Fund to Al Getler, publisher of the Lawrence Eagle Tribune which coordinates the drive.
Our Region has also contributed this winter to Open Door/Food Pantry in Gloucester, My Brothers Table in Lynn, and the Merrimack Valley Food Bank in Lowell to help ease hunger and homelessness in our Region.
My Brothers Table holds a health clinic on Tuesday evenings and would welcome nurses who wish to volunteer. For more information on this and other opportunities to help our communities, call the Region 4 office: 978.977.9200.
Give Us Your Ideas
The Region 4 Community Outreach Committee continues to meet to evaluate and plan our work. The next meeting of this Committee will take place Thursday, February 11, at 5:30 PM at Angelica's Restaurant in Middleton. If you'd like to attend, call our Region 4 office: 978.977.9200.
If you want to sit in on a meeting, join the Committee,or just submit ideas, don't hesitate. We know many of you are already involved in your communities and we would like to know about those and how we might be able to help out. Keep us posted. Thanks.