MNF Celtics Event

Boston Celtics vs Atlanta Hawks
Friday, December 14, 2018 @ 7:00 PM
The Boston Celtics are offering the MASSACHUSETTS NURSES FOUNDATION Members, Friends, & Families an exclusive ticket discount.
Once payment has been received please allow 3 business days to receive a confirmation from the MNF that you will have seats. Tickets will be sent electronically a couple of weeks before the event. Support the MNF by bringing out your friends and family to our fourth Boston Celtics event. Only 60 tickets available at $75* each - Seats are in the promenade section see the photo below which show the seats that are right up against the edge and has unobstructed view, they are at the top of the stadium but in an open area with space behind you the view is looking down onto the court, previous attendees liked these seats even though they are high up.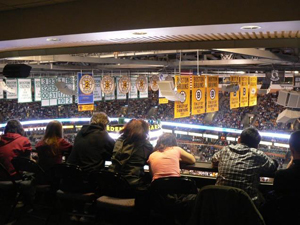 Orders will be assigned seat locations on a first-come, first-served basis and are subject to availability.
Order Tickets
*A portion of your payment is supporting the MNF scholarship program. No refunds allowed. Thank you for supporting us!
Cindy Messia, Administrative Assistant
Massachusetts Nurses Foundation
340 Turnpike Street, Canton, MA 02021
781-821-4625 ext. 720
cmessia@mnarn.org