The Latest COVID-19 Coverage Highlighting the MNA's Advocacy
The following stories capture the MNA's advocacy work on behalf of nurses, caregivers, and the public, during the COVID-19 pandemic. For more, please visit us on Facebook, Twitter, and Instagram.
Group of school nurses, others push for remote start
WBUR; August 31, 2020
Arguing schools need more time to prepare their facilities, a coalition of school nurses, teachers, bus drivers and other education stakeholders is calling for a phased-in approach to reopening schools this fall. More here.
Group of school nurses, others push for remote start
Boston.com; August 31, 2020
"This process represents one of the most consequential decisions our communities and our state will make as our state and nation to grapple with a pandemic that is still surging across the nation, showing signs of a second wave in our state, with the threat of the flu season looming," Patty Comeau, an RN, a member of the coalition and the Massachusetts Nurses Association, and a school nurse in Methuen, said in the release. "In confronting this challenge a safe, scientifically guided, well planned, adequately funded and appropriately resourced process must be the priority for all involved, as the stakes couldn't be higher and the outcome of our decisions truly have life and death consequences." More here.
Springfield school custodians, nurses will continue to work with or without students in the building
WWLP; August 12, 2020
22News spoke with Patty Comeau, a representative from the Massachusetts Nurses Association, who said how nurses in remote learning districts will be preparing proper health and safety protocols, "You know, how we're going to deal with a student who becomes ill, how are we going to go about isolating him and contacting parents? Educating the public and looking to find the symptoms before they send their students to school." More here.
The risk of getting COVID-19 in Massachusetts is increasing
WWLP; August 10, 2020
Judith Pare of the Massachusetts Nurses Association told 22News the virus is still under control in Massachusetts but large gatherings and other outdoor activities could cause for more of an uptick. "People need to understand that the pandemic is not gone. The virus is still with us, it is because we have been so conservative that we're successfully managing the virus. The behavior trends are starting to trend such that we are putting ourselves at risk." More here.
Brigham nurses say crowded shuttles are endangering their health
Boston Business Journal; June 25, 2020
On Wednesday night, after their shifts at Brigham and Women's Hospital, employees shuffled onto shuttle buses to make their way home. The shuttle was so full that staffers stood in the aisle, and even though they all were wearing masks, union nurses claim the hospital's lax transportation policies are endangering health care workers. More here.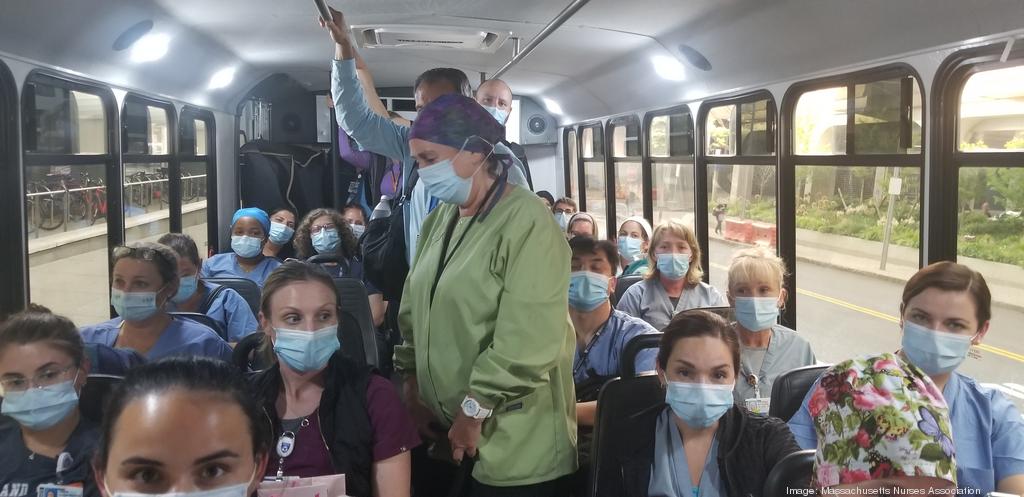 Nurses at Brigham and Women's raise concerns about crowded hospital shuttles
Boston.com; June 25, 2020
Nurses at Brigham and Women's say they are concerned that packed hospital shuttles are placing them at higher risk for contracting coronavirus. The nurses, represented by the Massachusetts Nurse Association, say the shuttles for hospital staff run by Mass General Brigham are not implementing a 50 percent capacity limit. The union said the nurses have brought their concerns about the lack of social distancing on shuttles to hospital management multiple times. More here.
MNA says Holyoke Soldiers' Home admin should have known about low staff levels
22 News WWLP; June 25, 2020
HOLYOKE, MASS. (WWLP) – Seventy-six veterans at the Holyoke Soldiers' Home died after testing positive for the coronavirus. A new report looks at how this tragedy could have happened and it found that staffing levels were an issue. More here.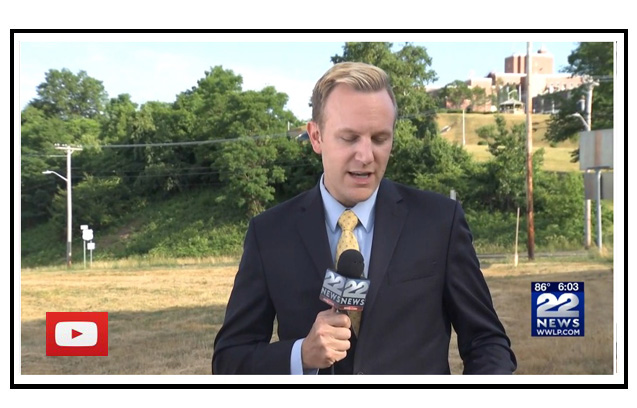 Baker stops short on key reform measure
Wouldn't require health care background for Soldiers' Home chief
CommonWealth; June 25, 2020
GOV. CHARLIE BAKER promised to follow through on all of the recommendations contained in a report documenting a series of management and medical mistakes at the Holyoke Soldiers' Home, but he backed away from one of the key initiatives in filing a number of reforms on Thursday. More here.
Nurses at Brigham and Women's say they're being forced into unsafe, cramped shuttles on their way to work
7 News WHDH; June 24, 2020
BOSTON (WHDH) - Healthcare workers at Brigham and Women's Hospital say they are fed up with being jammed onto crowded shuttles sitting shoulder-to-shoulder for rides lasting up to 20 minutes. They say it is unsafe in these uncertain times. More here.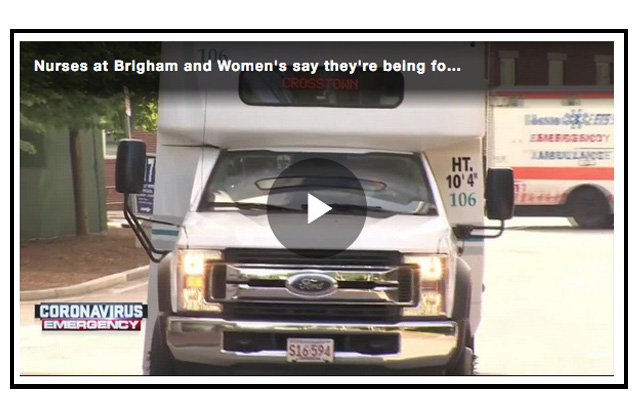 Report: Soldiers' Home leaders made 'substantial errors' that likely contributed to death toll among veterans
Greenfield Reporter; June 24, 2020
HOLYOKE — A lawyer hired by Gov. Charlie Baker to investigate the COVID-19 outbreak at the Holyoke Soldiers' Home that killed 76 veterans has found that leadership made "substantial errors" that likely contributed to the death toll at the facility. More here.
N95 masks: Despite FDA approval, Massachusetts nurses say N95 decontamination process is unproven
MetroWest Daily News; June 21, 2020
A decontamination process to reuse N95 face masks worn by health care professionals that treat COVID-19 patients is not proven to be safe and should be halted immediately, according to the Massachusetts Nurses Association. There isn't enough data to prove that the Battelle Critical Care Decontamination System protects the health of doctors, nurses and first responders, the MNA says. "Government officials and health care executives wasted time and resources and put frontline workers at risk chasing the unproven and dangerous dream of mask decontamination," said MNA President and registered nurse Donna Kelly-Williams, in a prepared statement. "Nurses and health care professionals caring for patients during this pandemic knew all along that these processes lacked rigorous evidence, could damage N95 masks and may create lasting health problems. Every frontline health care worker should have a new N95 mask to protect them against exposure and limit the spread of COVID-19." More here.


'It's like pulling teeth': There's still a PPE shortage — and a second wave could send medical workers into crisis mode
The Boston Globe; June 21, 2020
In Milton, doctors wear construction goggles and masks they bought themselves. In Brighton, clinicians have been forced to re-use dirty gowns. And in Milford, a hospital resorted to begging its Facebook followers to donate rain ponchos to use as gowns. Even as the rate of new coronavirus cases has ebbed across Massachusetts, medical workers say they still face shortages of gear to protect themselves, their families, and their patients. Many are taking matters into their own hands, while worrying that a second wave of infections, which some experts consider likely, would again send them into crisis mode.More here.
Mask Decontamination Endangers Healthcare Workers, Nurses' Unions Charge
Infection Control Today; June 16, 2020
The use of decontaminated masks puts infection preventionists and other healthcare professionals at risk, two nurses' unions said today. The Massachusetts Nurses Association (MNA) and National Nurses United (NNU) asked an expert to review a report by the Mass General Brigham (MGB) Center for COVID Innovation that deals with the efficacy of decontaminated masks. That expert, Richard Peltier, PhD, has serious doubts that decontaminated masks can keep healthcare workers safe. More here.
Nurses Worried About PPE Shortage, Second Corona Virus Surge
WBZ TV 4 News; June 14, 2020
Nurses at Signature Healthcare Brockton Hospital says the facility is rationing PPE and telling workers to reuse their masks. Some have concerns that a chemical decontamination process could be making them sick. "We haven't had time to do long term studies on reprocessing," said Kim Hollon, CEO of Signature Healthcare Brockton. "The FDA I think has done the best job they could as a federal agency to give us guidance when there was not enough masks available and we are following their guidance and their scientists."


Brockton Hospital nurses sound alarm over lack of PPE, protocols to ensure safety during reopening
The Cape Cod Times; June 10, 2020
Upon learning of the Department of Public Health's decision, the Massachusetts Nurses Association released a statement Wednesday calling for the maternity unit to be reopened. "Given the testimony at the hearing and the DPH findings, the (Massachusetts Nurses Association) believes there is no viable alternative to keeping the service open that will not deprive this community of the maternity services it needs," the statement reads. March of Dimes, a nonprofit organization founded by Franklin D. Roosevelt in 1938 to improve the health of mothers and babies, identified the southeast region of Massachusetts as a "maternity desert" for lack of access to obstetrical care, according to the MNA statement. More here.


Brockton Hospital nurses sound alarm over lack of PPE, protocols to ensure safety during reopening
The Enterprise; June 10, 2020
The Massachusetts Nurses Association says that nurses are being given "substandard personal protective equipment (PPE)," as they're forced to reuse N-95 masks they say are degraded and ineffective after being sanitized — especially a danger with Brockton having the second highest rate of coronavirus in Massachusetts. "Our nurses rise to this challenge every day, struggling to provide the best care possible under these unprecedented circumstances, yet we do so without appropriate personal protective equipment, and without the support from our senior management to keep us safe and to ensure the safety of our patients and this community," said Nicole Tanner, a critical care nurse at the hospital, in a written statement. More here.
Boston 25 News Covers Nurses' Concern about Furloughs Amid COVID-19 Re-Opening
Boston 25 News; June 10, 2020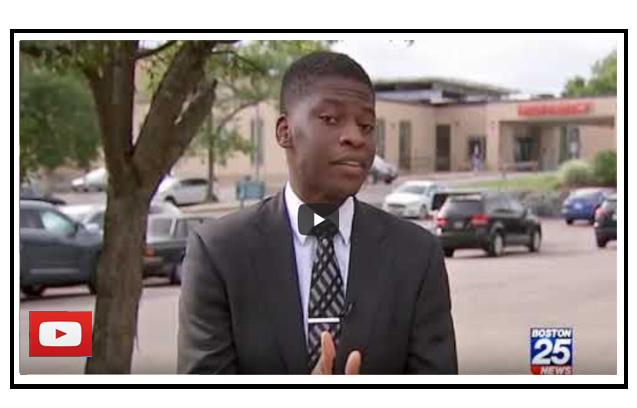 Boston 25 News covers the FDA's reversal on decontaminating certain N95 masks during COVID-19
Boston 25 News; June 8, 2020

FDA Reverses Stance on COVID-19 N95 Mask Decontamination
ExecutiveGov.com; June 8, 2020
"Government officials and healthcare executives wasted time and resources and put frontline workers at risk chasing the unproven and dangerous dream of mask decontamination. Nurses and healthcare professionals caring for patients during this pandemic knew all along that these processes lacked rigorous evidence, could damage N95 masks and may create lasting health problems," said RN and Massachusetts Nurses Association (MNA) president Donna Kelly-Williams said in response to the FDA reversal. More here.


FDA Reissues Certain EUAs Over Changes to Mask Decontamination Guidance
Pharmacy Times; June 8, 2020
The FDA is reissuing certain emergency use authorizations (EUAs) to specify which personal protection respirators are appropriate for decontamination due to public health and safety concerns about certain masks. The agency has announced that certain respirators should not be decontaminated for reuse by health care personnel, a decision made by the FDA based on increased understanding of the performance and design of these respirators. More here.
Nurses and Health Care Workers Experience Record Job Losses Amid Pandemic, Despite New Unemployment Figure Dropping to 13.3 Percent
Newsweek; June 5, 2020
Marie Ritacco, a registered nurse at St. Vincent Hospital in Worcester, Massachusetts, told Newsweek that at least 60 nurses, who were willing to relocate to other areas of the hospital to help out during the height of the pandemic, were instead furloughed. Ritacco, who works in the recovery room for elective procedures, is also a critical care nurse and saw her recovery room become an overflow ICU for COVID-19 patients. "Many of those nurses wanted to be deployed to other areas of the hospital, to at least be helping hands if not capable of taking on a full assignment," she said. "There was a significant number of nurses who should have been able to stay in the building and assist through the peak of the pandemic." More here.


Nurses concerned about wearing masks decontaminated at Somerville facility
Wicked Local, Sommerville; June 3, 2020
Battelle's Somerville facility is decontaminating thousands of masks for reuse, but some nurses aren't so sure about the process. Registered Nurse Claire O'Connell refuses to wear a decontaminated mask.
After working at Brigham and Women's Hospital for over 25 years, O'Connell was deployed to cover a COVID ICU unit at the beginning of the pandemic in Massachusetts. "Before COVID, you were supposed to be fitted every year for an N95 mask, and we were always stocked – you could use them as you needed them – and the standard is to wear it once and throw it away," she said. "When it comes to wearing a decontaminated mask, I'm not going down that road." To her, it's simple: Nurses putting their lives on the line are worth more than a decontaminated mask. More here.
Even while celebrated as heroes, health care workers are exhausted and struggling with burnout
The Boston Globe; May 28, 2020
Samantha Fabian, 32, a nurse at Cooley Dickinson Hospital in Northampton, said she struggled with whether to continue living at home with her husband and two sons while treating COVID patients. But she felt it was important to keep nursing her baby. "Sometimes I feel guilty: am I a bad mom for still coming home?" Fabian said. "I don't want to not nurse him and give him nutrition — it's such an awful, mentally tormenting feeling." Fabian said her hospital has done an excellent job handling the crisis, but the nationwide lack of personal protective equipment, or PPE, has been a constant source of stress. "We feel like our lives don't matter," she said. She's written three e-mails to the White House urging officials to provide health care workers with more durable, reusable protective gear such as powered air-purifying respirators. Work has gotten so depressing, she said, that sometimes she struggles to make herself get out of bed and go to the hospital. Since family members aren't allowed to visit patients now, nurses are often the only ones supporting people as they die, she said, holding their hands, speaking to them, and video-calling their family so they can say goodbye through an iPad."It's very, very sad," she said. More here.
'Absolutely outrageous': Boston's frontline workers say their employers insist those with COVID-19 didn't get it at work
Boston.com; May 28, 2020
Labor leaders representing frontline workers from hospitals to grocery stores sounded off before Boston city councilors Wednesday, in a push to have employers acknowledge employees sick with COVID-19 caught the virus while on the job. The union representatives say lawmakers must act to install occupational presumption measures to ensure nurses, custodians, supermarket employees, and others working essential positions during the health crisis have guaranteed access to workers' compensation and other resources should they fall ill. Many said employers have continuously insisted that sick workers contracted the virus when they were off the clock. More here.
Walsh blasts Steward Healthcare for failing to provide PPE to frontline staff

Fox 25 Boston; May 28, 2020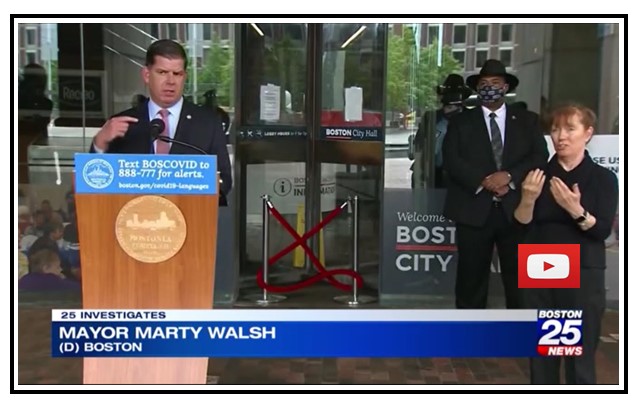 Massachusetts Nurses Association Responds To Gov. Baker's Reopening Plan

WBZ Channel 4, Boston; May 27, 2020
Workers Who Get Coronavirus Deserve Compensation, Boston City Councilors Say

NECN; May 27, 2020
Workers who get coronavirus deserve compensation, Boston City Councilors say. More here.
Nurses union calls out Steward Health Care for donating PPE amid apparent shortages for hospital staff
Boston.com; May 27, 2020
The Massachusetts Nurses Association is raising concerns that Steward Health Care announced it was donating thousands of protective gowns to the state and first responders when nurses at the system's hospitals have reported a desperate need for new personal protective equipment for weeks amid the coronavirus crisis. Boston 25 News reports the May 14 announcement by the health care system that runs 10 hospitals in Massachusetts has been labeled a "publicity stunt" by the nurses association, which represents nurses at eight of the company's facilities. More here.


Questions mount over mask decontamination machine once hailed as a game-changer
The Boston Globe; May 27, 2020
Hailed as a "game changer" in the region's quest for much-needed protective medical gear, a massive machine used to sterilize respirator masks that was rushed into emergency use has come under increased scrutiny in recent weeks.The machine, which Partners HealthCare arranged to bring to the Boston area in April, has been sharply criticized by some health care workers, with one group saying it treats nurses "like guinea pigs in an experiment." Even as new COVID-19 cases in Massachusetts have begun to decline and public focus has shifted to the economy's reopening, the personal protective equipment that front-line workers rely upon to safely treat patients remains in short supply. But nurses unions in Massachusetts and nationally have balked at reusing masks cleaned by the decontamination system produced by the Ohio defense contractor Battelle, citing the lack of independent research backing up Battelle's claims. More here.
Remember nurses? They're still on the front lines. And they still need protection
The Boston Globe; May 27, 2020
They're still plagued by the dangerous shortages of personal protective equipment that so outraged us way back in March, when they were our heroes. And some of them get the sense that we've moved on. By Yvonne Abraham, and available here.
Mass. nurses accuse Steward Health Care of 'publicity stunt' at their expense

Boston Fox 25 News; May 26, 2020
Steward Health Care, which owns 34 hospitals nationwide, announced May 14th it was donating tens of thousands of gowns to Massachusetts health officials and first responders, but local nurses at their hospitals say they've been facing a shortage of PPE.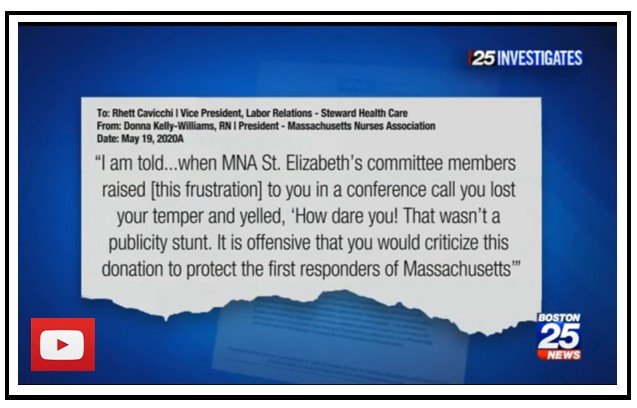 CHA Nurses Call for More PPE, Better Protocols at May 21 Press Conference

Boston Fox 25 News; May 20, 2020
Cambridge nurses petition for safe working conditions, say their demands have been ignored
The Boston Herald; May 20, 2020
Nurses working for Cambridge Health Alliance are petitioning for a safer work environment while treating coronavirus patients after some said they've have worn trash bags instead of medical gowns.
"This organization is complicit in the largest scale violation of occupational health and safety standards in history," said Susan Wright-Thomas, a nurse at Cambridge Hospital and an at-large director of the Massachusetts Nurses Association. Last week, CHA nurses delivered a petition to senior management calling for more personal protective equipment, hazard pay, expanded employee testing and a meeting with CEO Dr. Assaad Sayah, which they say was declined twice. More here.
Health Alliance nurses plan Wednesday protest, demanding more safety precautions, hazard pay
Cambridge Day; May 19, 2020
Cambridge Health Alliance lacks patient monitoring equipment as well as masks, shoe coverings and other protective gear to keep employees and patients safe during the Covid-19 pandemic, union nurses say. After they couldn't get a meeting with chief executive Assaad Sayah to talk about it, the nurses set a press conference for Wednesday at Cambridge Hospital. Almost 150 employees of the Alliance have tested positive for Covid-19, the Massachusetts Nurses Association said. The health care system has claimed none got infected on the job – allegedly to avoid paying unemployment compensation, the union said. Hours after the Massachusetts Nurses Association issued an advance press release about their action, Alliance spokesman David Cecere said Sayah and two other top officials would hold a virtual town hall on the morning of the union press conference "to get feedback from our nurses and answer their questions on all topics, including those raised by the MNA." More here.
COVID-19 Warriors: Stories From the Front Lines of the Pandemic
Everyday Health; May 14, 2020
As the COVID-19 pandemic has swept its way across the country, healthcare workers have emerged as the heroes who assist the ill as they battle — or succumb — to the virus. You see them everywhere: On TV. In newspapers. Online. In person. They're the people who've been taking care of all of us during the last few months. Treating our symptoms. Talking us off the ledge. Guiding families through the gauntlet of illness and treatment, and, in some instances, helping people die. They are the warriors on the front lines, and we owe them so much. Here are just a few of their stories, and featuring the MNA's Charlene Verga, RN. More here.


Nurses union criticizes executive's pay in face of furloughs; Cape Cod Healthcare CEO made close to $3M in fiscal 20
The Cape Cod Times; May 14, 2020
The Massachusetts Nurses Association is criticizing Cape Cod Healthcare for furloughing 600 employees this month after paying the health care organization's top executive nearly $3 million in fiscal 2018.
"It doesn't make sense to cut the employment of dedicated employees who provide direct patient care and not cut exorbitant salaries of high-paid executives. This undercuts what Cape Cod Healthcare stands for," David Schildmeier, association spokesman, said in an email. The most recent available charitable tax return forms for Cape Cod Healthcare, for the fiscal year ending Sept. 30, 2018, show that Cape Cod Healthcare President and CEO Michael K. Lauf earned $2,962,322 in compensation. More here.
Nurses union continues to air concerns over decontaminated N95 masks
Boston.com; May 14, 2020
Weeks after the Massachusetts Nurses Association said nurses and health care workers should have the right to refuse a decontaminated mask at work, the union now says nurses are exhibiting adverse symptoms while wearing the reused masks. "We have received multiple reports from nurses experiencing headaches, sore throats, dizziness and nausea while wearing a device that was simply never meant to be reused," Judith Pare, the MNA's director of nursing education, said in an email to Boston.com. "The short-term side effects are now apparent to us but the potential long-term health effects may be catastrophic and therefore we remain strongly opposed." More here.
Nashoba Valley Hospital to Reopen ICU
The Sentienl & Enterprise; May 14, 2020
Under pressure in the community it serves, Steward Health Care announced Wednesday night that it is reallocating intensive care unit staff back to Nashoba Valley Medical Center in Ayer, citing the recent statewide decline in COVID-19 admissions. More here.
MNA Nurses Object to Experimental Mask Decontamination During COVID-19

Boston 25 News; May 14, 2020
Hundreds of Workers Furloughed by Cape Cod Healthcare

NECN Tonight; May 8, 2020
Boston NBC 10 Recognizes Nurses Day by looking at the COVID-19 pandemic through the eyes of five local nurses

NBC 10 Boston; May 6, 2020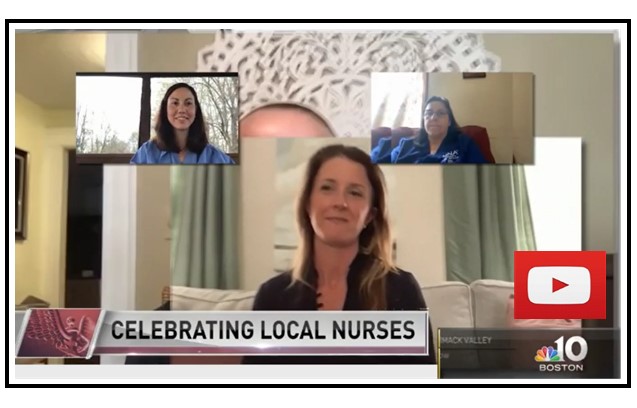 WBZ Channel 4 covers National Nurses Week by highlighting the public service announcements several MNA members recorded this week thanking the community for its support and asking for one simple thing: That we all keep doing our part to limit the spread of COVID-19.

WBZ TV4; May 6, 2020
Mass. nurses union balks at reused face masks: It alleges that even after decontamination, the equipment puts health care workers at risk
The Boston Globe; April 30, 2020
The state's largest nurses union is protesting the reuse of respirator masks that protect against coronavirus — even when they've been cleaned in an elaborate decontamination process — and is arguing that nurses should be able to refuse the masks and request new ones for each shift. Hospitals and state and federal officials have said it's safe to reuse masks when they've been properly sanitized. But officials at the Massachusetts Nurses Association, which has 23,000 members, say there isn't enough evidence to support decontamination methods. More here.
Taking a Toll: Brigham nurses discuss stress, worry, and fear that come with caring for COVID-19 patients
WBZ TV4; May 1, 2020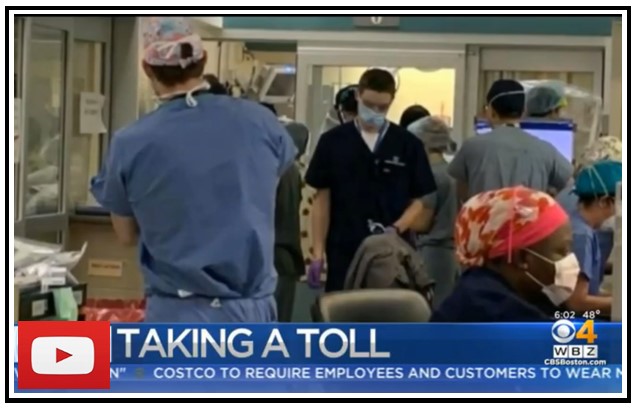 MNA leaders at Berkshire Medical Center deliver more than 500 K95 masks to their fellow nurses
ABC News 10; May 1, 2020
Nurses at Saint Vincent Hospital in Worcester say coronavirus furloughs have led to 'dangerous delays in care'
MassLive.com; April 30, 2020
Nurses from Saint Vincent Hospital say that furloughs and staff reductions amid the COVID-19 pandemic have led to "dangerous delays in care" at the Worcester facility. In the time since the staff reduction plan was implemented, nurses have filed more than 50 reports documenting specific incidents when the lack of staff and resources reportedly jeopardized the health and safety of patients, according to a statement issued Thursday by the Massachusetts Nurses Association. The majority of those patients have COVID-19, the disease caused by the new coronavirus, and need a higher level of care, the statement read. "Our administrators have no understanding of what these COVID patients need, and have no idea what it is like to be responsible for these patients, knowing they are not receiving the care and attention they need at the worst time in their lives," said Dominique Muldoon RN, a nurse on a COVID floor at the hospital. More here.


Nurse frustrated with mask directives; hospital dismisses complaints as union-bellyaching
Commonwealth Magazine; April 23, 2020
Mark Brodeur loves his work as an intensive care and emergency room nurse at Berkshire Medical Center in Pittsfield, but he is frustrated by directives coming from administrators on how staff should use personal protective equipment, or PPE, in the midst of the pandemic. The guidelines attempt to strike a balance between conserving PPE, given the worldwide shortage of the equipment, and protecting workers. But, in his view, the guidelines don't do enough to protect workers from getting infected. So Brodeur has decided to ignore his employer's guidelines and wear the equipment he believes will keep him safe. Specifically, he wears an N95 mask, so named because it filters out 95 percent of airborne particles. "I feel safe wearing it, and I feel like my patients are safer, my family is safer, and everyone else I come in contact with is safer," he said. More here.
Brockton Hospital nurse Amy Smith has been on the job for 25 years, now caring for coronavirus-only patients at Brockton Hospital. She says it's an anxiety she's never experienced before.
WBZ TV 4; April 23, 2020
Boston ICU Nurse Has Message For Families: We're Taking Care Of Your Loved Ones
WGBH Radio; April 23, 2020
For Nurse In Berkshires, Lack Of Masks And Other Challenges Make COVID-19 Treatment 'Draining'
WGBH Radio; April 23, 2020
Tobey nurse who contracted coronavirus worried about risk to coworkers
SouthcoastToday.com; April 22, 2020
WAREHAM — On a day she should have been hunting for Easter eggs with her four kids, Kristen Huntley found out she had tested positive for COVID-19. In addition to being a mother, Huntley is a staff nurse on a medical surgical floor at Tobey Hospital. On April 1, she had gone to work after a short vacation and, wearing only a surgical mask, began caring for patients who tested positive for COVID-19, Huntley said. "We had no N95 masks and there wasn't even talk of getting them," Huntley said. More here.


Tenet Healthcare Furloughs Hit Mass. as CEO's Pay Skyrockets
Sudbury Patch; April 22, 2020
FRAMINGHAM — The Dallas-based company that operates three major for-profit hospitals in Worcester and the MetroWest is ordering furloughs for nurses and medical workers as the coronavirus pandemic cuts into revenue-generating services like elective surgery.

Meanwhile, Tenet Health CEO Ronald Rittnemeyer's compensation rose 62 percent in 2019 to more than $24 million. He agreed to donate a portion of his salary in light of the furloughs, but it's possible he could face further reductions after a shareholders meeting in May. More here.
'I have barely hugged my kid in weeks': A nurse's daily journey toward fighting a pandemic
Gloucester Daily Times; April 21, 2020
An emergency room nurse at Addison Gilbert Hospital cannot wait for the day that she can hug her family again. "I have barely hugged my kid in weeks, which really sucks," Abby Kull of Gloucester said. "And it is primarily because I don't want to give it to them to give to somebody else." Having worked in local hospitals for six years, Kull has seen a lot. But with the surge of the novel coronavirus pandemic hitting Cape Ann this past week, life in the emergency room and at home looks a lot different. More here.
Catholic hospital won't guarantee ICU nurse a respite from work with coronavirus patients

The Boston Globe; April 21, 2020
A month ago, when Lindsay Manning first asked whether she should steer clear of COVID-19 patients, her supervisor at Mercy Medical Center in Springfield tried to reassure her. It was primarily a respiratory virus. Pregnant women weren't necessarily at greater risk. But as more details about the course of the illness emerged, the pregnant ICU nurse worried about the unknowns. What about fever, which can be linked to preterm labor and fetal abnormalities? What about the breathing problems COVID-19 patients were suffering, forcing them onto ventilators? Manning was only six months pregnant. What would happen to her fetus if her oxygen levels dropped or she ended up sedated on a ventilator? With her anxiety rising, the 30-year-old mother of a 3-year-old again asked if she could limit her exposure to coronavirus patients, but a manager made clear that a transfer was not guaranteed. A move would depend on staffing levels, Manning was told. The last day she worked, April 1, she tended to an array of patients, most of whom were being treated or tested for coronavirus. Now, she has COVID-19 too. Two weeks after her positive test, she remains sick and sleepless, wracked with anxiety about what will become of her baby. Even now, the Catholic hospital where she works will not reassure her that if she recovers and returns to work, she will be reassigned. More here.
First Patient Dies of COVID-19 At State-Run Shattuck Hospital
CommonHealth, WBUR.org.; April 21, 2020
The Massachusetts Nurses Association, the union representing many nurses at state-run hospitals, says nurses at Tewksbury welcome the Army assistance and hope it will help stabilize the infection rate. The MNA says currently, the Army team is testing hospital workers, as well as patients, and training workers on the proper use of personal protective equipment like masks, gowns and gloves. "We view this as a positive for the staff and patients there," said Roland Goff, director of strategic campaigns for the MNA. "But there have been staffing problems at Tewksbury for years but they've not been addressed, and unfortunately this crisis has now put a bright light on those deficiencies." More here.
MNA Members at Hogan Regional Center Call on Mass. for More PPE, Proper Training as COVID-19 Cases Rise
WCVB TV, Channel 5; April 20, 2020
Patty Comeau and Karen Roberto, school nurses and MNA members, work on "contact tracing" for COVID-19
Boston FOX 25; April 19, 2020
Nurses Helping Nurses: St. Lukes RNs Hand Out Hundreds of Donated KN95 Masks to Coworkers
WPRI; April 16, 2020
NECN on efforts by MNA nurses at Saint Vincent Hospital to prevent furloughs and keep RNs on the job during COVID-19 pandemic
NECN; April 16, 2020
MNA Nurses at Saint Vincent Hospital Fight Against Furloughs as COVID-19 Surge Hits
CBS Boston; April 16, 2020
North Shore Medical Center nurses worry about safety
Salem Evening News; April 14, 2020
The MNA said North Shore Medical Center, which is owned by Partners HealthCare, is not providing all front-line staff with the N95 masks, eye protection, and hospital-issued scrubs and gowns that they need. Management is also not consistently telling nurses if they have potentially been exposed to the virus or who could have exposed them, the union said. In an interview, Celena Welenc, a nurse in the intensive care unit at North Shore Medical Center, said her unit ran out of gowns last weekend. She said nurses are not allowed to go into patients' rooms unless they have the proper protective equipment. "If there was to be a code (alert), we couldn't go into that room," Welenc said. "That goes against everything nurses and doctors are about." More here.


Gov. Baker released new tracking data for PPE distribution
WesternMassNews.com; April 13, 2020
Kelly-Williams said nurses can use all the equipment they can get, as they're catching the virus from patients who have it looking for care. "Anywhere from 20 to 30 percent of the healthcare workforce is testing positive. This means that if a healthcare provider tests positive for the COVID-19 at the bare minimum, they're going to be away from the patients for 14 days," Kelly-Williams explained. There is specific equipment Kelly-Williams said nurses need."New N95 masks. We need to face shields. We need eye goggles, we head coverings, we need gowns to go over scrubs. That should be provided by the facility and we need shoe coverings as well," Kelly-Williams noted. More here.


The race to save lives: Inside the coronavirus fight at three Boston-area hospitals, through the eyes of the medical professionals who work there
The Boston Globe; ongoing series, 2020
Bianca Dintino, April 1, an ICU nurse who volunteered to treat coronavirus patients: 'I immediately said yes.' Dintino, 26, is in Tufts Medical Center's coronavirus intensive care unit. This is her account of her April 1 shift, as told to Globe reporter Naomi Martin. More here.


Number of Boston hospital employees' infections more than double in two weeks
WCVB Channel 5 Boston; April 13, 2020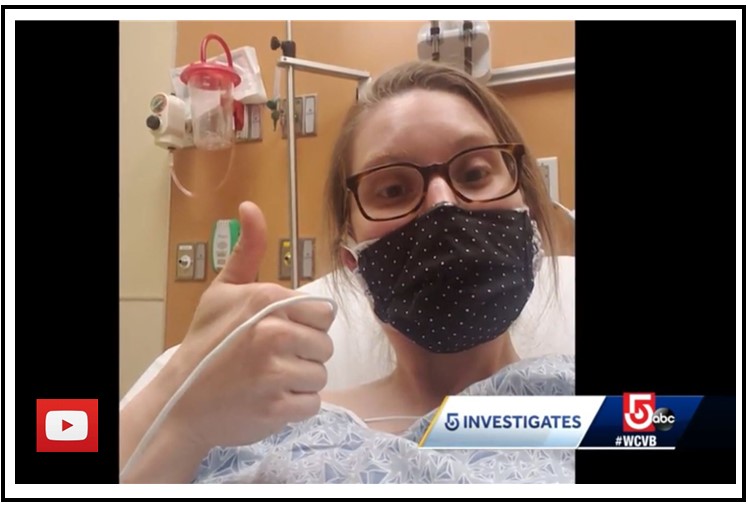 Mass. nurses say rationing of N95s putting them at risk
Fox 25 Boston; April 13, 2020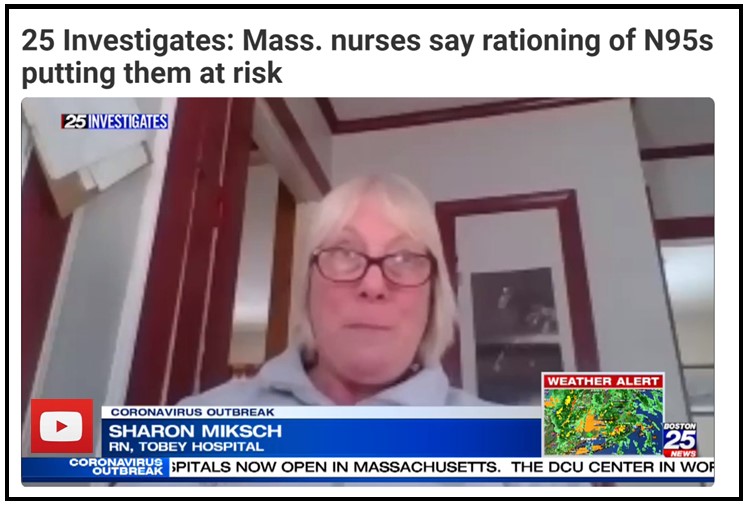 Workers on the front lines persevere in face of unprecedented crisis
Cape Cod Times; April 12, 2020
Shannon Sherman works in the post-anesthesia care unit and serves as co-chairwoman of the Cape Cod Hospital chapter of the Massachusetts Nurses Association. "We've always had a sense of camaraderie. That's just been magnified now. We are doing our absolute best under a difficult situation to deliver the best care possible to the patients coming in." More here.
CHA struggles to supply virus protective gear; Frontline workers have made concerns plain
Cambridge Day; April 10, 2020
Jillian Brelsford is working five consecutive 12-hour shifts this week as a nurse at CHA Cambridge Hospital, caring for COVID-19 patients on one of the hospital's dedicated coronavirus units. She has an N95 mask, though it may not always fit her. She has a gown, though she and her colleagues have set aside a stash of garbage bags as backup if the hospital runs short of gowns again. She's worried that Cambridge Health Alliance might soon run out of certain medical devices needed for treatment, or space in certain hospital rooms that ensure safety when patients need high-risk respiratory procedures. Brelsford doesn't fault CHA's effort to find supplies and its dedication to its mostly low-income patients and its workers in the face of a pandemic. "I absolutely love Cambridge Health Alliance … I think we're unique in the commonwealth," she said at the end of a recent shift. "I knew I wanted to be a public sector nurse and take care of our patients facing health disparities." More here.


Steward alters policy during pandemic, Good Samaritan in Brockton still taking coronavirus patients

From The Enterprise; April 7, 2020
Liz Erwin, a registered nurse who spoke out last week about a lack of personal protective equipment at Good Samaritan, said she only heard about Steward's policies through word of mouth. Now, Erwin said she's unsure who decides where patients are transferred or why. "All I know is that it's confusing that one day they say Carney is the COVID hospital and now it's Morton," she said. More here.


Mass Nurses Association Call for Improved Protective Equipment and Redeployment Rather Than Furlough
From GoLocalWorcester.com; April 9, 2020
"To effectively combat this virus, we need these additional resources directed to the front lines to protect nurses and healthcare workers and flatten the curve," said Donna Kelly-Williams, RN and President of the Massachusetts Nurses Association, representing more than 23,000 frontline nurses and healthcare professionals in 85 healthcare facilities and the vast majority of RNs in hospitals statewide. Too many nurses and healthcare workers who could be redeployed to help fight this pandemic are being furloughed, laid off or cancelled," Kelly-Williams said. "We need all hands-on deck and now that hospitals are receiving additional financial support, they should be able to redeploy, train and house staff who are willing and able to help fight this outbreak." More here.


Coronavirus: Hospitals across Massachusetts can get N95 masks sterilized in Somerville facility, officials say
MassLive.com; April 9, 2020
Doctors, nurses and other health care workers on the front lines have expressed concerns with the low levels of protective equipment available in their facilities. The Massachusetts Nurses Association has repeatedly asked state officials for more protective gear to prevent hospitals from running out or rationing them. More here.
Berkshire Health Systems retracts sick leave policy that roiled union
The Berkshire Eagle; April 9, 2020
BHS, which owns Berkshire Medical Center, then chided the union for trying to start a labor dispute amid a pandemic and universal mask shortages. Both outlined their positions in full page ads in The Eagle. Mark Brodeur, a Berkshire Medical Center nurse and union member with the Massachusetts Nurses Association, praised the new policy, which he said was likely the result of union pressure and widespread community outrage about what he said was a punitive notice from management. He also said the new policy acts as an incentive for workers to stay home to stop the spread of disease. "If you didn't have enough earned time, you would have to choose between not getting paid and supporting your family or going to work sick," he said. "It in general makes the community a lot safer." More here.


Brigham and Women's Hospital not ensuring nurses have N95 masks, Mass. nurses say

Boston Herald, April 6, 2020

Some nurses at Brigham and Women's Hospital are working without an N95 respirator and the hospital has also refused to notify staff if they came into contact with a coronavirus-positive patient or colleague, the Massachusetts Nurses Association said.

"If nurses on the front lines are not protected, who will be there to care for patients?" said Trish Powers, Brigham operating room nurse and chair of the MNA bargaining committee at the hospital. "Every Brigham nurse needs the best practice N95 mask protection. Why are we saving these masks if the surge is starting now? If we get sick, we cannot be at the bedside, and our families and communities are at risk," said Powers. More here.


Taunton's Morton Hospital To Be Coronavirus-Only And Some Don't Like It
Boston CBS, April 6, 2020

"In the community with only one hospital, that's the hospital they decide to do a COVID-19 facility. That doesn't make any common sense to me," said State Senator Marc Pacheco. Over the weekend, Morton Hospital's owner and operator, Steward Health, announced the Taunton facility will become a dedicated COVID-19 operation. Only emergency care will be open to all. "It isn't a matter of just going down the street to another hospital. We're talking 20 miles to get to the next facility," Pacheco told WBZ-TV. More here.
How Many More Nurses Have to Die? Coalition of Nurses Unions Demand Life-Saving Supplies in Battle With Coronavirus
CommonDreams.org, April 6, 2020
"The health of our communities and the lives of our families, friends, and neighbors depends on how we protect frontline nurses and healthcare workers right now," said MNA president Donna Kelly-Williams. More here.
Nurses union claims Steward Health Care not supporting staff during coronavirus outbreak
The Herald News, April 6, 2020
A nurses union representing workers at eight Steward Health Care hospitals has criticized the company for a lack of support during the coronavirus outbreak. The Massachusetts Nurses Association laid out a system-wide lack of support in a Thursday statement, claiming there is a lack of proper personal protective equipment to use while working with sick patients, protection for staff exposed to the virus, adequate staffing in designated COVID-19 units and communication about policies. More here.
On The Front lines Of The Coronavirus Pandemic In Massachusetts
From WBUR, April 6, 2020

Featuring Dominique Muldoon, a front line nurse at St. Vincent Hospital in Worcester. She's also co-chair of the local bargaining unit of the Massachusetts Nurses Association at the hospital. More here.
Worcester Nurses on the Front Lines
Spectrum News1; April 2, 2020