2011 News
MNA/NNU protests in Washington
12.19.2011
From the Massachusetts Nurse Newsletter
October/November 2011 Edition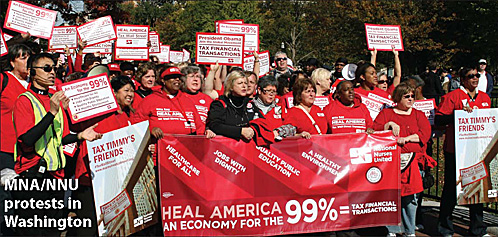 The MNA and National Nurses United, joinedbytheAFL-CIOandcommunityactivists, including participants from the Occupy Wall Street movement, protested outside the U.S. Treasury Department in Washington on Nov. 3 to press President Obama and Treasury Secretary Timothy Geithner for a meaningful financial transaction tax (FTT) to help heal the U.S.and join the growing global movement for an FTT. More than 150 RNs, including student nurses, from Massachusetts attended the event.
That same day, nurses from four continents, including a delegation from NNU, were at the opening of the G-20 summit of world leaders in France to demonstrate how to "inject an FTT" to resuscitate the ailing global economy.
The MNA and NNU have been campaigning since early spring for an FTT, essentially a sales tax on trades of stocks, bonds, derivatives, and other financial transactions. An FTT would mainly target the big banks and investment firms whose reckless activities caused the current economic crisis. As much as $350 billion annually could be raised by a meaningful FTT, with the revenues available for such needs as good jobs, health care for all, and funding for quality public education.