2009 News
Central Mass AFL-CIO honors MNA Region 2 chair
10.22.2009
From the Massachusetts Nurse Newsletter
October 2009 Edition
| | |
| --- | --- |
| | |
| | Well-deserved recognition: Lynne Starbard, RN, chair of MNA Regional Council 2, with MNA members and Paul Soucy, labor director of United Way of Central Mass. and Joe Carlson, president of Central Mass. AFL-CIO. |
| | |
At the 2009 Central MA AFL-CIO Labor Day Breakfast, Lynne Starbard RN, MNA Regional Council 2 Chair, was the recipient of the United Way/AFL-CIO Community Services Award. The award is given annually in recognition for support and participation in community projects. Starbard is a leader in her commitment to participating in community service projects. Not only does she demonstrate her own generosity in giving, but she inspires others to do so as well. She has coordinated toy and food drives in her bargaining unit and in her region. She participates annually in the Central MA AFL-CIO Community Services holiday food basket and toy program. Starbard and her co-workers are a constant presence at the annual Letter Carrier's Food Drive and the United Way Day of Caring. And under her leadership, the MNA Regional Council 2 is an annual scholarship sponsor at the Central MA AFL-CIO Scholarship Golf Tournament.
---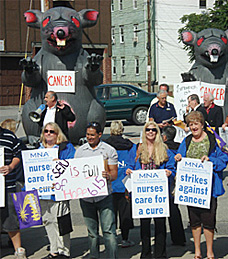 "Cancer is the Rat!" MNA members join others in Worcester's labor and legislative community on Labor Day to "Strike Against Cancer." The event was held to draw attention to the UMass/AFL Walk to Cure Cancer in September. MNA Regional Council 2 is a proud sponsor of The Walk to Cure Cancer.
---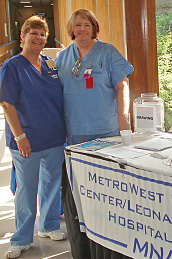 MetroWest Leonard Morse: MNA members at MetroWest Leonard Morse Campus hosted an MNA Day at their hospital in August. The MNA leadership advertised the day with a flyer to all units and called through all the units to remind them to come to the table at the cafeteria on the day of the event. It was advertised as a day to meet their leaders, their staff, ask contract questions and ask general MNA questions. It was a huge success! Members came by, joined MNA leaders and staff for their coffee break, asked questions and won fun prizes! What a way to get to know MNA! In photo, MNA Leonard Morse leaders Vicki Emerson RN (left) and Lynn Shaw welcome MNA members to MNA Day.