2008 News
Progress made to prevent boarding patients on inpatient units
09.15.2008
From the Massachusetts Nurse Newsletter
September 2008 Edition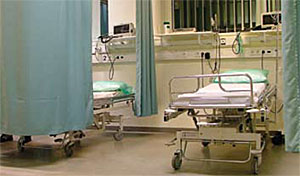 The MNA continues to take a leadership position in actively opposing the dangerous policy of permitting boarding of patients on inpatient units. As early as April 2005, during the administration of former Gov. Mitt Romney, the Department of Public Health—with the support of the hospital industry—first approved a boarding policy. This is an unsafe practice that the MNA Board of Directors immediately opposed and continues to counter due to its negative implications for patient care and nursing practice. Unfortunately, some decision- makers in the DPH continue to pursue boarding as a means of dealing with the problem of emergency department overcrowding and ambulance diversion.
MNA leadership on prevention of boarding on inpatient units
Consultation with experts on patient flow
Development of position statement
MNA "Hall No! We Won't Go!" public relations campaign
Articles in Massachusetts Nurse
Discussions with Mass. DPH

Advocacy on NPSF list serve and other forums
The MNA believes that boarding patients in inpatient units is not an acceptable solution to overcrowding and that instead it creates more problems and raises serious issues relative to the safety of patient care. As such, it generates a larger crisis than the one it was designed to resolve. Furthermore, there are effective mechanisms available to predict and manage patient flow which preclude the need for such hasty, unwise and unsafe measures.
In response to the DPH move, MNA developed a position statement opposing the policy of allowing boarding and care of patients in the corridors of inpatient units, describing the dangers posed by "corridor care" and recommending alternative solutions to overcrowding of hospitals EDs. Since issuing its position statement in 2005, the MNA has actively advocated on behalf of safe solutions.
Hope springs eternal, as they say. The practice of boarding is becoming widely recognized as unsafe and intolerable. The Joint Commission has developed standards which address strategies and solutions to address hospital overcrowding. MNA's grave reservations about corridor care and its advocacy for the use of appropriate patient flow methodologies rather than boarding are being echoed by many. Patient safety advocates, whose communications on the National Patient Safety Foundation (NPSF) list serve are followed by MNA, generally discourage if not condemn boarding now. Also, a new generation of local emergency department physician managers, trained in contemporary ED management, appears to be embracing alternative approaches and rethinking the earlier rush to free up ED capacity by boarding patients on inpatient units. The issues of ED overcrowding, diversion and boarding on inpatient units are naturally intertwined.
Update on diversion and boarding
The DPH Boarding and Diversion Task Force ("Diversion Group") was reactivated after a series of articles in the Boston Globe depicting the issues in Massachusetts Hospital emergency rooms. The group is chaired by John Auerbach, Massachusetts commissioner of public health with assistance from Paul Dreyer, DPH director of the Bureau of Health Care Safety and Quality. A number of hospital emergency room chiefs of service attend. MNA director of nursing Dorothy McCabe has participated in initial meetings and has shared the Joint Commission's recent regulations on patient flow and the DPH statement on patient flow from the Joint Commission Manual "Managing Patient Flow."
Diversion
From recent Diversion group discussions of (a) diversion of patients to other hospitals when emergency rooms (ERs) are deemed full and (b) boarding of patients awaiting admission in ERs, it appears that most hospitals at this time are not diverting patients unless the ER is in crisis. There are multiple reasons for hospitals to not divert. Many are financial (the hospital does not want to lose patient revenue), but also compelling is the desire by hospitals to meet their patients' demands, especially patients with complex problems being treated by a specific institution. Increasingly it is recognized that diverted patients with serious medical histories are often transferred back to their "home" hospitals due to quality of care issues directly related to lack of knowledge concerning care requirements.
The group has conducted multiple studies on diversion in Eastern Massachusetts. These studies indicate that diversion peaked as recent as February. Several hospitals are recognized as high diverters, which has affected the ERs of hospitals in their region.
The "good news" is that there is wide agreement among ER physicians that diversion and boarding is directly related to patient flow and that hospitals must look at their own systems and concentrate on appropriate scheduling of elective surgery and cardiac procedures and early discharge to address overcrowding. Hospitals with high diversion rates will be notified of their effect on other hospitals and directed to look at their own systems.
Boarding
Of additional concern to the ED group is the boarding of patients in hallways on patient units. The vast majority of contemporary ER physician chiefs appear to embrace the need to use a systems approach and apply sound operations management principles to address patient flow problems. CMS (Centers for Medicare and Medicaid Services, or "Medicare") has conditions of participation which require all health care providers who receive Medicare reimbursement to meet minimal standards of care for their provider group. This Medicare "parity of care" legal requirement could conceivably be used as a formidable financial threat for hospitals that persist in the substandard, unsafe practice of boarding patients on inpatient units.
MNA staff recently spoke to Charlotte Yeh, MD, former Newton Wellesley ED chief and the current administrator of CMS Region 1 (New England) about the new approach by CMS to penalize providers by withholding payment for preventable inpatient complications, errors, injuries and infections. Dr. Yeh acknowledged that Medicare is upping the ante and that where firm data exists, future similar actions will be "in the arena for consideration" as tools to hit hospitals in the pocketbook to force change. Dr. Yeh would not confirm concrete plans to CMS to alter payment to hospitals for boarded patients on the basis of inequitable care but did indicate that the problem falls into the arena (her term) of steps for future action.
For more information contact Mary Crotty, RN, JD at MNA, 781.830.5743, or mcrotty@mnarn.org.