2009 News
Region 2 joins letter carriers' food drive in Worcester
06.15.2009
From the Massachusetts Nurse Newsletter
June 2009 Edition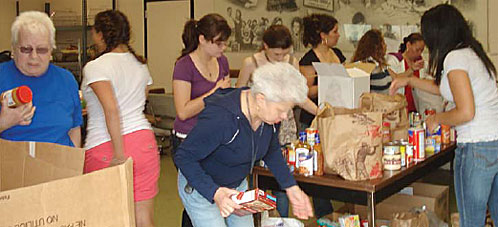 Pat Mayo (left) and other volunteers sort donated food at the Friendly House food pantry.

In keeping with their commitment to community service, on May 9, MNA Region 2 members helped to make the National Letter Carriers' Food Drive in Worcester a huge success. MNA members Pat Mayo RN, Carolyn Bourget RN, and Deb Holmes RN followed letter carriers on their postal routes to help pick up food. The food donations were distributed to area food pantries to help those in need.

Pat Mayo's minivan was filled with food for the Friendly House food pantry.

Pat Mayo, Carolyn Bourget, and Deb Holmes join with members of other area unions at the Worcester Post Office loading dock to hear their instructions for the day.