2009 News
Attention MNA members: help save DMR facilities
03.15.2009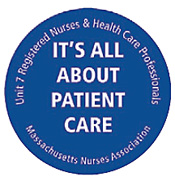 From the Massachusetts Nurse Newsletter
March 2009 Edition
As you know, Governor Patrick recently announced that he is closing four Department of Mental Retardation (DMR) facilities and consolidating others. Since then, the MNA has been working with the Coalition of Families and Advocates for the Retarded (COFAR) and other community groups in mounting a campaign against these cuts.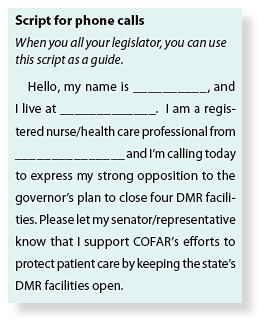 The MNA and COFAR need the help of every MNA member in making this campaign successful. We know that the first step in the governor's plan is to move many of these patients to vendor-operated community homes. In order to protect these patients, as well as members of Unit 7, the MNA is asking you to participate in as many of the following activities and actions as possible:
On March 24 call your state senators and state representatives and use the script below to help guide you through your conversation. To find your legislators visit www.wheredoivotema.com.
On April 7 please attend the COFAR State House rally and, afterwards, plan to visit with your elected officials. This event will run from 10 a.m. to approximately 2 p.m.
If Unit 7 members can organize and present a united front on behalf of patients and their families these essential facilities, and Unit 7 jobs, can be saved.
For more information, including any questions specific to logistics or transportation, contact Tony Antonelli at 781.830.5702.